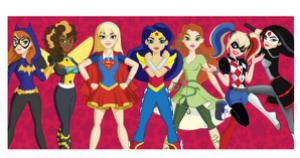 BURBANK, Calif.--(BUSINESS WIRE)--
Girls now have their very own Super Hero world, DC Super Hero Girls, where they can play, watch, read and be inspired to discover their full super power potential alongside legendary DC Comics female Super Heroes, including Wonder Woman, Supergirl and Batgirl, in this all-new universe that was created just for them.
This Smart News Release features multimedia. View the full release here: http://www.businesswire.com/news/home/20151001006547/en/
DC Entertainment and Warner Bros. Consumer Products, in partnership with Mattel, announced today the activation of many elements to this highly anticipated initiative, including the rollout of the new DCSuperHeroGirls.com website, which kicks off with the U.S. launch today. A global rollout of the digitally immersive world will begin later this month.
Website, Video and More…
The new DCSuperHeroGirls.com site today debuts the first webisode, of a series of animated digital shorts, titled "Welcome to Super Hero High" that was created by the award-winning Warner Bros. Animation Studio, in partnership with Mattel's Playground Productions. Today's launch features a pantheon of DC Comics characters that have been brought to life in a completely new artistic style and aesthetic, through immersive videos, games, quizzes, character photos, bios and more.
In the coming weeks and months the new website will be regularly updated with new animated digital content and previews of upcoming products slated for 2016. In conjunction with the website launch, DC Super Hero Girls will have a dedicated presence across a number of social media platforms, including exclusive DC Super Hero Girls YouTube, Facebook and Instagram accounts, to cater to social media savvy girls and their parents.
"DC Entertainment has a deep and rich roster of strong female characters – both heroes and villains – that have inspired and empowered girls and young women for decades. From the iconic Wonder Woman and Supergirl, to the complex but compelling Harley Quinn and Catwoman, there is a character to whom every girl can relate, no matter what stage of life in which she currently finds herself," said Diane Nelson, President of DC Entertainment and President and Chief Content Officer of Warner Bros. Interactive Entertainment. "Girls want to experience the strength, action and optimism of Super Heroes too, and DC Super Hero Girls is part of our long-term strategy to offer a diverse array of strong female characters in a fun and action-packed universe, and through a world of epic storytelling on a variety of entertainment platforms. We could not be more excited and proud to debut today's first phase of the important new universe for girls."
New York Comic Con
DC Super Hero Girls will take New York Comic Con by storm as girls and their parents, along with all DC Comics fans, attending NYCC...
More