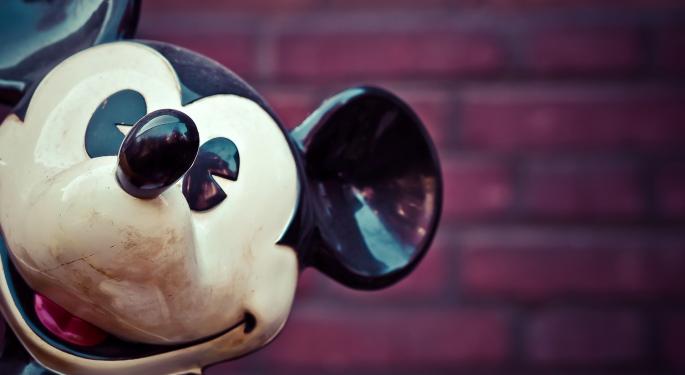 Walt Disney Co DIS 0.96% narrowly beat Q3 estimates, but the stock dropped after hours. Revenues for the entertainment giant came in at $14.277 billion vs. estimates of $14.15 billion, up 9 percent from a year ago. Q3 EPS of $1.62 beat analyst estimates by a penny.
Disney has managed to deliver 12 consecutive quarters of double-digit EPS growth.
BAMTech Stake
Disney's announced a key 33 percent stake in BAMTech, with "plans to launch a new direct to consumer ESPN multi sports subscription based service," said Disney CEO Bob Iger. The company paid $1 billion for the stake in the company.
It's through the acquisition of BAMTech that Disney plans to make a major leap in direct to consumer video offerings, particularly with ESPN to remain relevant, as consumers increasingly demand streaming content.
"In terms of Internet delivered video, we think this is a really smart investment for the company. We need this product to take ESPN to similar platforms. Adding IP from the company will allow it to grow faster than it will on its own," added Iger.
Shares traded recently at $95.18, down 1.5 percent. Commenting on the stock's drop after hours, Needham's Laura Martin highlighted weakness in consumer products, ESPN, Cable/Broadcasting segments, Overdelivery in Parks, Studio Segments. Martin has a Hold rating on Disney.
Theme Parks
Disney's theme park segment also had a strong quarter, especially considering the hardships it faced with the Alligator death at its Florida park, the terrorist attack in Orlando and Zika virus fears. Disney's Theme Park business grew 6 percent in the quarter to $4.38 billion. Q3 saw Disney open its Shanghai theme park and has already seen a million guests since its opening on June 16.
Movies
The highlight of the quarter was the Studio Entertainment segment, which saw a 40 percent increase. Disney had strong box office results with "Finding Dory," "Captain America: Civil War," "The Jungle Book" and "Zootopia." The company is anticipating big results from key future releases in "Moana," Marvel's "Dr. Strange" and "Rogue 1." Since the 2006 acquisition of Pixar, Disney has released 29 films that have average $800 million per firm.
Iger's succession plan still remains an important topic for Investors, as he plans to retire in 2018. He has been Disney's CEO since 2005.
"We have a really strong Disney board, they have an ongoing process and we are all confident it will result in a good decision for shareholders longterm," added Iger.
© 2016 Benzinga.com. Benzinga does not provide investment advice. All rights reserved.