The markets are waiting for any sign that the fed will begin to end the QE program this September. Here are a couple of reason why the fed will not begin tapering in September:
1. Unemployment rate is still high. 7.4% in July, although it is falling people are leaving the workforce. A better look is the employment population ratio.  Here is a graph that I got from the Bureau of Labor Statistics: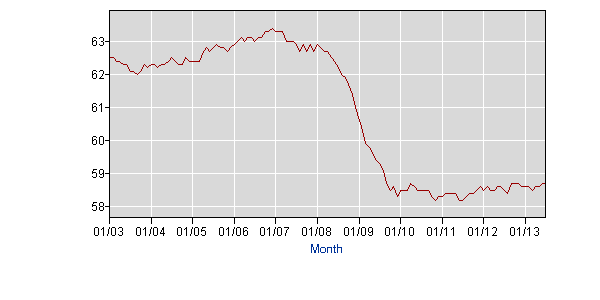 As you can see it does not look as nice as the Unemployment Rate.
2. The impact on the housing market will be bad. If the Fed begins to taper, it could cause mortgage rates to spike. This would be bad for the improving housing market and business like Home Depot (NYSE:HD) and Lowes (NYSE:LOW).
3. Low inflation: The federal reserve still believes that inflation is low. An increase in money supply through QE is effective in raising inflation. The fed usually targets inflation at 2% but inflation is only 1.2%.
4. If congress won't do something someone else has too. The great thing about the central bank is that it does not have to go through a long legislative process to do something, it can just do it.  So far, congress has not taken any meaningful action to improve the economy so it is up to the fed to do the best in its power to prop up the economy.
So if you are worried about tapering in September. There might be hope.