After a strong rally in 2016, the price of oil has declined again in 2017.
The good news, is that the recent downturn has created high-yield opportunities among the 100+ publicly traded Master Limited Partnerships.
For example, Buckeye Partners LP (BPL) sports a 7.8% dividend yield. It is one of just 416 stocks with a 5%+ dividend yield.
Buckeye's very high yield is thanks to a 10% drop in its share price over the past year, combined with a long track record of dividend growth.
Buckeye has delivered quarterly cash distributions since the company was founded, in 1986. It is one of the highest-yielding Dividend Achievers, a group of stocks with 10+ years of consecutive dividend increases.
This article will discuss why income investors may want to give Buckeye a closer look.
Business Overview
Buckeye Partners is a midstream MLP, meaning it operates oil pipelines and storage terminals. It has three business segments:
Domestic Pipelines & Terminals (53% of EBITDA)
Global Marine Terminals (41% of EBITDA)
Merchant Services (6% of EBITDA)
The company's domestic assets consist of more than 6,000 miles of pipelines, along with 115 terminals, which have storage capacity of 56 million barrels.
The Global Marine Terminals segment holds seven petroleum terminals, with 62 million barrels of product storage capacity. Buckeye also owns a 50% stake in VTTI B.V., which operates 15 terminals.
Buckeye's product breakdown is as follows:
Refined Products (68% of EBITDA)
Crude Oil/Condensate (20% of EBITDA)
Other (12% of EBITDA)
Refined products primarily include gasoline, jet fuel, diesel, and heating oil. The other category includes fuel oil, butane, and propylene.
Buckeye is diversified geographically, with its four most important Hubs being the Chicago Hub, New York Harbor, the Gulf Coast, and the Caribbean.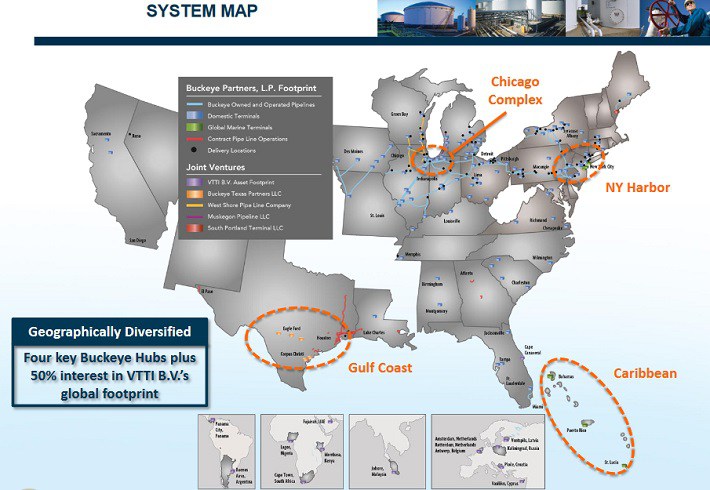 As a midstream operator, Buckeye is much less exposed to falling oil prices than oil producers like ConocoPhillips (COP) or even
More