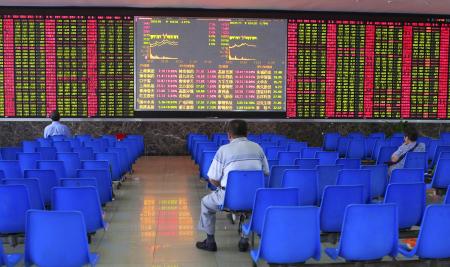 SHANGHAI -- Shares in China and several other Asia-Pacific nations fell again Monday amid continuing concerns about the health of China's economy, and U.S. Federal Reserve Vice Chairman Stanley Fischer's remarks that the Fed had not ruled out an interest rate rise in September.
In Tokyo the Nikkei finished the day down almost 1.3 percent. Analysts said profit-taking was one reason for the fall, as investors sought to lock in gains made during the market's rebound in the second half of last week. But investor sentiment was also affected by news that Japanese industrial output had fallen unexpectedly by 0.6 percent in July, with some analysts citing weak demand from China as a factor. Singapore's Straits Times Index also fell Monday, dropping about 0.7 percent, while Australia's ASX 200 was down nearly 1.1 percent.
There were some positive notes: South Korea's Kospi Index recovered from a drop in morning trading to close 0.2 percent higher, while Hong Kong's Hang Seng, which had fallen more than 1 percent Friday, also reversed morning falls to close 0.27 percent up.
In China, however, shares were back in negative territory, after regaining more than 10 percent Thursday and Friday, following their dramatic fall of 18 percentage points between last week's "Black Monday" and Wednesday. The main Shanghai Composite Index fell 3...
More