Expedia Inc. EXPE reported second-quarter 2017 adjusted earnings of 66 cents per share, which surpassed the Zacks Consensus Estimate of 60 cents. Earnings were up 65% from the year-ago quarter.
Revenues of $2.59 billion were up 18.2% sequentially and 17.8% year over year and came ahead of the Zacks Consensus Estimate of $2.54 billion. Gross bookings decreased 3.4% sequentially but increased 12% year over year to $22.8 billion.
Shares increased 2.4% in afterhours trading in response to the better-than-expected results. Notably, year to date, shares of Expedia have outperformed the S&P 500 index. The stock returned 40.4% compared with the index's gain of around 10.8%.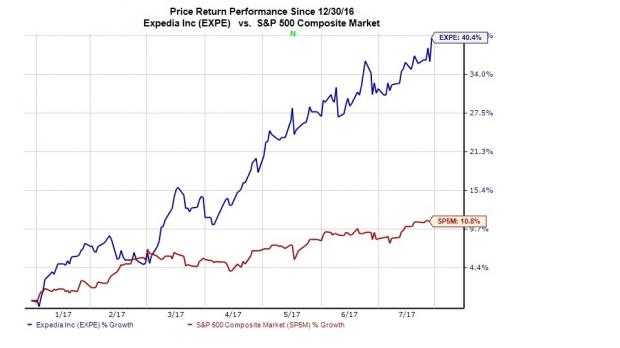 At the call, management sounded upbeat about the company's continuous improvement and execution.
In the quarter, Expedia acquired the majority stake in SilverRail, a rail ticket retailing and distribution platform developer. The buyout, which is likely to be supported by Expedia's successful partnership with SilverRail, will boost core OTA revenues, going forward.
We stay positive about the company's solid travel booking platform, a stronger travel market, contribution from a series of acquisitions and management execution.
The numbers in detail:
Revenues by Segment
Core OTA segment revenues were up 14.7% sequentially and 13.8% year over year to $2 billion, driven by growth in room nights in every major region.
Trivago revenues increased 21.1% sequentially and a massive 63.2% from the year-ago quarter to $328 million driven mainly by strong volumes and solid monetization.
Egencia was up 4.8% on a sequential basis but down 21.5% on a year-over-year basis to $135 million. Management stated that "Egencia is now the fourth largest travel management company in the world based on revenue."
HomeAway was up 9.8% sequentially and a massive 79.2% year over year to $224 million, driven mainly by strong growth in stayed room night.
Core OTA, trivago, Egencia and HomeAway contributed 78%, 13%, 5% and 9% of gross revenues (before inter-company eliminations), respectively.
Expedia, Inc. Price, Consensus and EPS Surprise
Revenues by Channel
Around 53.2% of total revenue was generated through the merchant business (direct sales), and another 26.5% came through the agency model (where Expedia operates as an agent of the supplier). Roughly 11.7% came from Advertising & Media with Home Away accounting for the remaining 8.7%.
Merchant, Agency, Advertising & Media and Home Away were up 17%, 19.8%, 17.5% and 21.1%, respectively on a sequential basis. On a year-over-year basis, Merchant, Agency, Advertising & Media and Home Away grew 13.7%, 11.8%, 49.5% and 30.2%, respectively.

Revenues by Geography
Around 56% of Expedia's quarterly revenues were generated domestically, with the remaining 47% came from international sources. The domestic business climbed 16.7% sequentially and 14.6% from a year ago. The international business grew 20.1% sequentially and 22.1% from the year-ago quarter.
Revenues by Product Line
Lodging revenues (67% of total revenue), which include hotel and HomeAway revenues, increased 16% in the quarter based on a 21% increase in room nights stayed, driven by growth in Brand Expedia, Hotels.com, EAN and HomeAway.
Air revenues increased 6% driven by 4% increase in revenue per ticket and 2% increase in air tickets sold. The year-over-year growth in advertising & media revenues reflected continued growth in trivago and Expedia Media Solutions. All other revenues increased 13%, reflecting growth in travel insurance and car rental products.
Operating Details
Adjusted EBITDA increased 89% sequentially and 19% year over year to $393 million. We note that Core OTA, Egencia and HomeAway EBITDA increased 14%, 5% and 3%, respectively on a year-over-year basis. However, trivago declined 78% over the same time frame.
On a sequential basis, Core OTA, HomeAway and Egencia EBITDA were up 59.5%, 550% and 3.7%, respectively. trivago EBITDA declined significantly in the reported quarter.
Operating income as a percentage of revenues was 4% compared with 1.2% in the year-ago quarter. The year-over-year improvement was due to lower technology & content (down 123 bps) and general & administrative (down 185 bps) expenses.
Total cloud spending was $21 million, up from $9 million from the year-ago quarter.
Balance Sheet
As of Jun 30, cash and short-term investments totaled $3.8 billion, up from $3.4 billion as of Mar 31. Net debt balance was $346.1 million compared with net debt of $667.7 million in the previous quarter.
So far in 2017, Expedia repurchased nearly 1 million shares for a total of $134 million.
Full Year Outlook
Expedia continues to expect adjusted EBITDA growth of 10–15% for 2017, including an increase in cloud spending. Excluding cloud expenses, growth is estimated to be 14–19%.
Management continues to expect trivago revenues to increase nearly 50% in 2017 with slight improvement in adjusted EBITDA margins.
Expedia's plan to ramp-up sales organization in the Egencia business will impact margins in the near term. Management expects Home Away's revenue growth to peak in the third quarter, which will also boost EBITDA growth.
Expedia expects total selling and marketing cost to grow faster than revenues for the remainder of the year. The company anticipates technology and content expenses to grow faster in the back half of the year.
Zacks Rank and Other Stocks to Consider
Currently, Expedia carries a Zacks Rank #2 (Buy). You can see the complete list of today's Zacks #1 Rank (Strong Buy) stocks here.
Other stocks worth considering in the industry are Alibaba Group Holding Ltd. BABA, and Applied Optoelectronics, Inc. AAOI, both sporting a Zacks Rank #1, and Symantec Corp. SYMC with Zacks Rank #2.
Long-term earnings growth rates for Alibaba, Applied Optoelectronics and Symantec are projected to be 30.4%, 18.7% and 10.3%, respectively.
The Hottest Tech Mega-Trend of All
Last year, it generated $8 billion in global revenues. By 2020, it's predicted to blast through the roof to $47 billion. Famed investor Mark Cuban says it will produce "the world's first trillionaires," but that should still leave plenty of money for regular investors who make the right trades early.
See Zacks' 3 Best Stocks to Play This Trend >>
Want the latest recommendations from Zacks Investment Research? Today, you can download 7 Best Stocks for the Next 30 Days.
Click to get this free report
Expedia, Inc. (EXPE): Free Stock Analysis Report
Alibaba Group Holding Limited (BABA): Free Stock Analysis Report
Symantec Corporation (SYMC): Free Stock Analysis Report
Applied Optoelectronics, Inc. (AAOI): Free Stock Analysis Report
To read this article on Zacks.com click here.
Zacks Investment Research