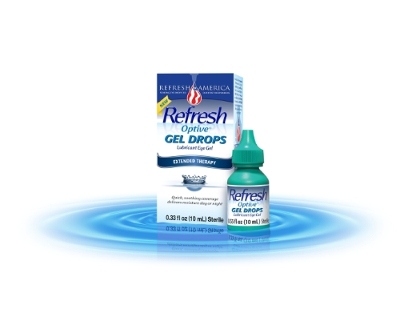 DUBLIN, Oct. 21, 2015 /PRNewswire/ -- Allergan plc, (NYSE: AGN), a leading global pharmaceutical company, today announced the launch of the over-the-counter artificial tear REFRESH OPTIVE® Gel Drops, a new aqueous gel expertly designed for patients who need or desire a more viscous artificial tear option to relieve their Dry Eye symptoms. From REFRESH®, the creators of the number one doctor recommended brand of artificial tears1, new REFRESH OPTIVE® Gel Drops are formulated with Glycerin and a unique blend of the active ingredient CMC which binds to the eye surface to provide long-lasting relief from Dry Eye discomfort.
"With REFRESH OPTIVE® Gel Drops, eye care providers now have an even more comprehensive line of artificial tear types to offer to their patients with individual needs," said Joseph Vehige, O.D., Vice President of Consumer Eye Care Research & Development, Allergan. "Leveraging the latest technology from OPTIVE®, the new multi-dose Gel Drops help Dry Eye patients find comfort any time, day or night.2"
An estimated 25 million people in the United States suffer from Dry Eye symptoms, including irritation, blurred vision, sensitivity to light, burning, stinging, dryness and excessive tearing.3 In a multicenter, double-masked, randomized study, Dry Eye patients (n=94) using REFRESH OPTIVE® Gel Drops showed a statistically significant reduction in symptoms at day 30.2 The innovative Gel Drops formula delivers a shear-thinning effect that spreads quickly and evenly over the eye surface to relieve Dry Eye symptoms while creating a soothing shield to protect the eye surface from hypertonic stress.
"Dry Eye is a reduction in your eyes' ability to produce or maintain sufficient quantity and quality of natural tears. Tears are important to the overall health of our eyes and our vision. My patients suffering from Dry Eye symptoms often ask me for a more hydrating artificial tear that will...
More