After July's hope-crushing drop in the Philly Fed manufacturing survey, August printed 8.3, modestly higher than expectations of a modest rise to 6.5. Prices Paid and Prices Received tumbled as did New Orders but the headline index rose thanks to a pick up in employment and average workweek. The bottom line is that Philly Fed's survey is flatlining at the lowest levls in 2 years; and on a side note, the not-discussed-much Philly Fed non-manufacturing survey utterly collapsed from 51.4 to 2.7 in July.
Philly Fed is going nowhere...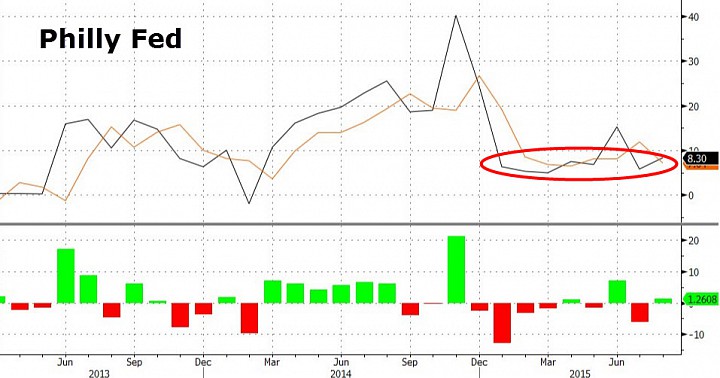 The breakdown is mixed...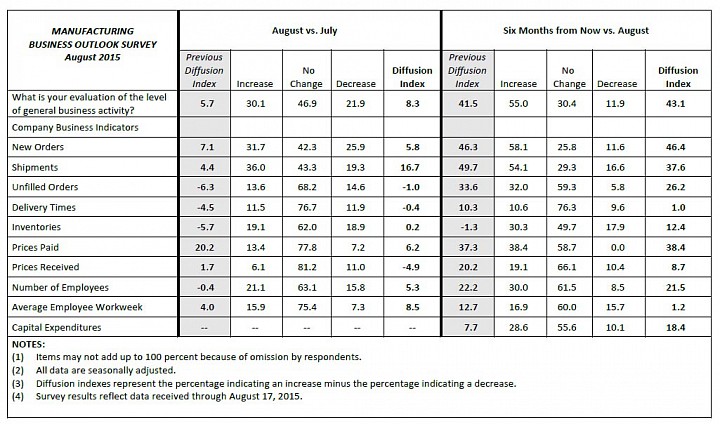 And The Philly Fed's special question sums it all up...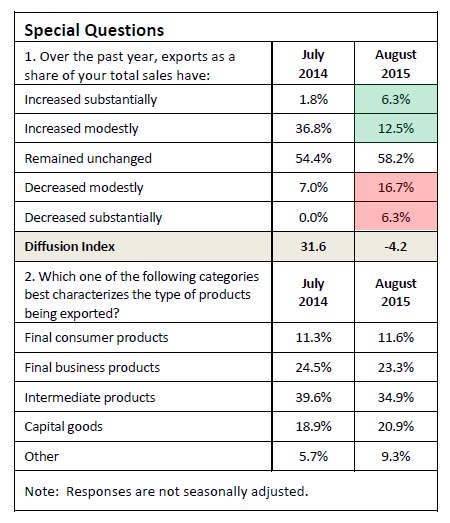 Philly Fed increased from 5.7 in July to 8.3 in August. This index has hovered in a low range since the beginning of the current year, far below the highs of late 2014. The demand for manufactured goods, as measured by the survey's current new orders index, remains low as well, falling slightly more than 1 point to 5.8 in August. However, the current shipments index rebounded 12 points to 16.7.
Input price pressures were subdued: The prices paid index fell 14 points, to 6.2. With respect to prices received for manufactured goods, a majority of firms (81 percent) reported no change in prices. The percentage of firms reporting reductions in prices received (11 percent) exceeded those reporting increases in prices received (6 percent) for the first time in three months.
*  *  *
Finally we have the Services side of Philly Fed collapsing...
July Philadelphia Fed Non-Manufacturing Index at 8.1
July general activity for the firm fell to 2.7 vs 51.4
New orders fell to -5.4 vs 27.0
Sales fell to -21.6 vs 32.4
Unfilled orders fell to -2.7 vs 10.8
Inventories fell to -2.7 vs 5.4
Prices paid fell to 18.9 vs 35.1
Prices received fell to 5.4 vs 32.4
Full-time employment fell to 5.4 vs 24.3
Part-time employment fell to -2.7 vs 32.4
Average employee workweek fell to 0.0 vs 18.9
Wages and benefits fell to 24.3 vs 35.1
Capital expenditures- plant fell to 10.8 vs 16.2
Capital expenditures- equipment fell to 5.4 vs 18.9
Charts: Bloomberg