ETSY has been consolidating since the start of the year after a bearish IPO year carried it to 6.00.
ETSY Daily Chart 8/3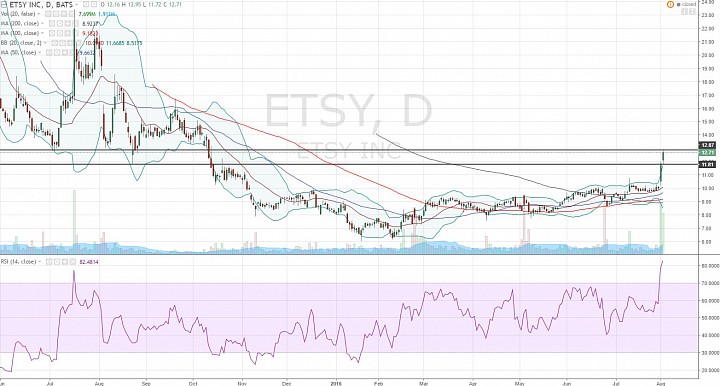 (click to enlarge)
Rounded bottom:
- As we can see in the daily chart, ETSY has been in accumulation mode.
- Then, the market boosted it up during the 8/2 session - day of earnings report. 
- We can obviously infer from the chart that these were positive earnings. 
- Now, with price around 12.70, ETSY is in a previous support/resistance pivot zone - we should anticipate resistance here below 13.00. 
Pullback scenario:
- if there is indeed some selling, we should not expect such a strong pullback. I would anticipate support to be around 12.00 if there is a pullback.
- But if there is a deep one, a bullish market should hold price above 10. 
- A break below 10 would invalidate the bullish breakout we saw during the 8/2 session and turns ETSY back into a bearish market. 
Here's a report from TechCrunch regarding ETSY's earnings:
The company posted revenue of $85.35 million, above analyst forecasts of $80.6 million. Revenue for the same period last year was $61.37 million. This represents year over year growth of 39.1 percent. Earnings per share came in at a loss of six cents, while a Wall Street consensus was expecting them to come in at a loss of one cent per share.

Gross merchandise sales (GMS) for Etsy came in at $669.7 million. This time last year, Etsy was running $546.2 million in goods. This quarter's GMS is up 22.6 percent compared to 2015. This doesn't match the 24.6 percent gains the company saw between Q2 2014 and Q2 2015.

Moving forward, GMS guidance has improved to an expected growth of 15-17 percent, while revised revenue guidance indicates 25-28 percent growth. To accomplish this, Etsy plans to focus on mobile sales conversions, seller services and international growth.

"During the second quarter, we expanded our global community to include approximately 1.7 million active sellers and 26.1 million active buyers," said Etsy CEO, Chad Dickerson, in a statement. (Full Article at TechCrunch.com)