Morgan Stanley has just released a list of top 'secular growth stocks'. These are stocks that Morgan Stanley analysts believe can outperform the market, regardless of the economic environment. "While our US Equity Strategy team has remained positive on an equity market they believe is 'Classic Late Cycle,' for some long-term investors, it may make sense to focus not on the cycle, but through the cycle," the bank explains.
To find these special stocks, Morgan Stanley screened for stocks with revenue growth over the last 3 years. It then narrowed the list to stocks which had a 3-year compound-annual-growth-rate (CAGR) forecast of at least 15% for EPS and 10% for revenue. From this list, we delved into three of the most intriguing investing opportunities.
Using TipRanks, we turned to analysis from top analysts for insights into the stock's outlook over the next year. TipRanks uses powerful algorithms to track over 4,700 analysts. These analysts are ranked according to success rate and average return. The result: we can zoom in on the latest ratings from the analysts who consistently outperform the market. We can also gauge the upside potential for these stocks based on the analyst price targets.
Let's take a closer look at these 3 top stock ideas now:
1. Tesla Inc (NASDAQ:TSLA)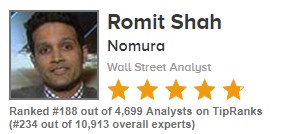 This controversial auto stock is one of Morgan Stanley's top picks. Year-to-date, TSLA stock has soared by an impressive 51.99%. This makes it one of the best-performing stocks in the market this year. But now analysts are divided about whether Tesla can continue to post such big gains going forward. For example, five-star Nomura analyst Romit Shah says Tesla can reach $500- 51% upside from the current share price. He reiterated his buy rating on October 31."We believe that Tesla, much like Intel in the 1990s, is well positioned to accrue most of the profits in the electric vehicle value chain" says Shah.
He adds that supply constraints for Tesla's much-hyped Model 3 vehicle will be short-lived. Ultimately this means that: "We see significant momentum for alternative energy vehicles globally and expect Tesla's Model 3 to lead the first stage of mass-market electric vehicle adoption." In light of this, he believes Tesla sales will reach $58 billion in 2021, up from just $8 billion that Tesla saw last year.
Overall, the stock has a Hold analyst consensus rating, with an average analyst price target of $304. Given that the stock is currently trading at just $304, this translates into a downside from the current share price of -8%. Click on the graph below for a more detailed analysis of the stock.

2. Nvidia (NASDAQ:NVDA)
This California-based chipmaker has exploded over the last year by an incredible 93%. And one of TipRanks' Top 25 Analysts, Needham's Rajvindra Gill, has just published Nvidia's highest price target yet of $250- 20% upside from the current share price.
H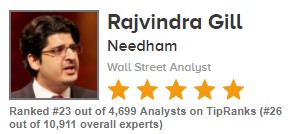 e points out that Nvidia has immense potential in the data center market, which currently represents just 19% of its total sales: "Net, we estimate that the Data Center TAM [total addressable market] alone could represent $21-$35BN over the next five years. Admittedly, capturing this TAM will occur over several years and we are mindful of how much of this expectation is in the stock today… [We] are arguing that a higher multiple should be applied today on this potential earnings power."
At the same time, he also notes that Nvidia has a leadership position in the world of artificial intelligence (AI). "Virtually all carmakers, transportation as a service companies, as well as startups are using NVIDIA AI in the development of Level 5 vehicles" says Gill.
However, some analysts are concerned that the stock is overvalued and that any hiccup could cause shares to pullback. As a result, NVDA has a Moderate Buy analyst consensus rating with 15 buy, 7 hold and 3 sell ratings in the last three months. Furthermore the $179 average analyst price target stands at a -13.5% downside from the current share price.

3. Palo Alto Networks (NYSE:PANW)
Cybersecurity stock Palo Alto is up by 17% year-to-date. In fact, Morgan Stanley have only turned bullish on PANW very recently. Top Morgan Stanley analyst Keith Weiss upgraded the stock on October 10. He also ramped up his price target from $150 to $185 (26% upside potential).
"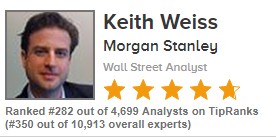 With execution issues behind them, expanded sales capacity against easier comps, and a conservative bar for FY18 we believe it's time to rebuild positions in PANW," says Weiss. Palo Alto previously reported disappointing fiscal second quarter results. At the time, the company claimed this was "due to some execution challenges, which we are moving quickly to address."
Now Weiss believes the stock has an attractive risk/ reward ratio and is expecting 20% free cash flow growth. He concludes "We believe Palo Alto Network is one of the best-positioned vendors to execute on that platform story, as they consolidate network security spend and increasingly end-point security and security analytics."
Palo Alto has a Moderate Buy analyst consensus rating. In the last three months this breaks down into 17 buy, 5 hold and 1 sell rating. The average analyst price target stands at $164- 11% upside from the current share price.

The TipRanks database covers over 5,000 stocks from eight different sectors. We monitor all the latest market activity so that investors can make better, data-driven investing decisions.
The post Morgan Stanley: 3 surprising stocks set for huge growth appeared first on TipRanks Blog.