The Federal Reserve is set to wave goodbye to its bond purchase program on Wednesday, but bond traders said farewell a long time ago.
The central bank has been cutting the size of its open-market purchases of Treasurys and mortgage-backed securities in steady increments since the beginning of the year, and, barring any surprises, the Fed will halt its purchases completely for the first time in 37 months.
Hypothetically, with a major buyer no longer pushing its weight around in the bond market, declining demand could push down the prices of U.S. government debt, sending yields higher.
But the truth is that bond traders priced in the end of so-called quantitative easing long before the Fed even started winding down the program. In fact, once the Fed began tapering its purchases, the benchmark 10-year Treasury10_YEAR, -0.52% yield actually fell, as this chart shows: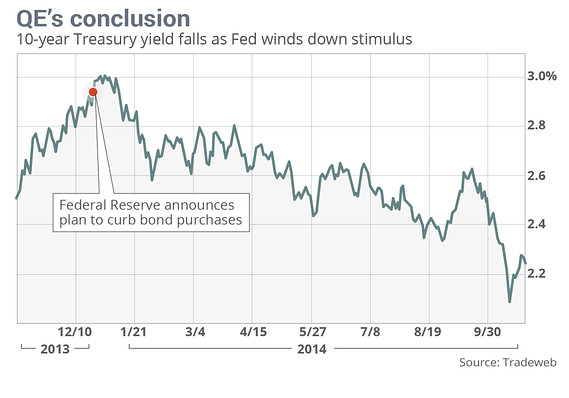 "I'm a believer that the demise of QE was already pretty much priced in with the so-called taper-tantrum last summer," said William O'Donnell, head Treasury strategist at RBS.
The Fed has been on a long postcrisis crusade to juice the economy by buying Treasurys and mortgage bonds. But the bond market started getting jumpy in the spring of 2013 as then-Fed Chairman Ben Bernanke signaled that the central bank was considering bringing that stimulus to an end.
Bernanke didn't actually pull the trigger on tapering until that December, but during those uncertain months, the 10-year Treasury yield climbed from well below 2% to nearly 3%. By that point, the end of the program had already been priced into the market. Now, as the Fed concludes QE, the impact is set to be minimal.
"I really don't think it's going to have a major market impact," said Michael Cullinane, head of Treasury trading at D.A. Davidson & Co.
Some strategists point to data showing that, somewhat illogically, benchmark Treasury yields rose as the Fed undertook QE and fell as central bankers pulled back on that stimulus. Perhaps one explanation is that the QE program was meant to push investors out of lower yielding Treasurys and into securities like stocks. Now that the stimulus program is ending, investors may be pulling out of risky assets and returning to Treasurys, in turn pushing their prices up, O'Donnell notes.
But for all intensive purposes, investors are focused on the future. In terms of Fed policy, the key question is when officials will begin the next part of the monetary policy normalization process.
"What does the market focus on next? It is already hyper-focused on rate hikes, and how aggressive the Fed will be," said Cullinane. However, he notes that process of raising key interest rates from near-zero has been complicated by a gloomy outlook on global economic growth and inflation.
Ben Eisen