Having exposed the culprit for all of its economic and market woes, China is likely going to have problems explaining why its economic plague is still spreading (with South Korean exports collapsing and Japanese Capex growth slowing) and China's official manufacturing PMI slipped into contraction for the first time in 6 months (to 3 year lows). Amid the face-saving clean-air of Parade Week, the appearance of awesomeness must prevail and following the worst quarter since Lehman, stocks are indicated lower despite having received some 'help' into last night's close. PBOC proxies push 'hope' as a strategy for stock stability (even as US markets and oil are re-collapsing) as margin debt drops to an 8-month low - still double YoY though. PBOC fixes Yuan 0.22% stronger- the biggest jump since Nov 2014 - as it injects another CNY150bn via 7-day rev.repo.
China's bubonic economic plague is spreading...
S. KOREA EXPORTS DROP BY MOST SINCE 2009, FALLING FOR 8TH MONTH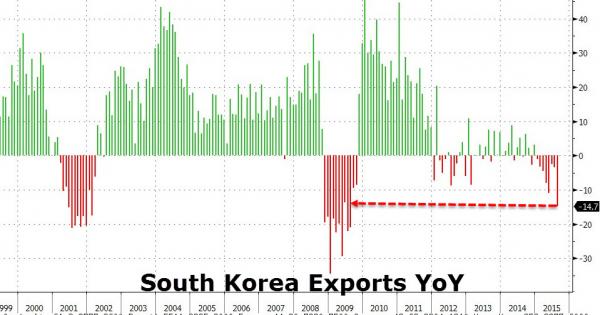 So guess who wil lbe next to devalue!
*  *  *
But having arrested the culprit for all of China's market and economic woes, following the worst 3-month slide in stocks since Lehman...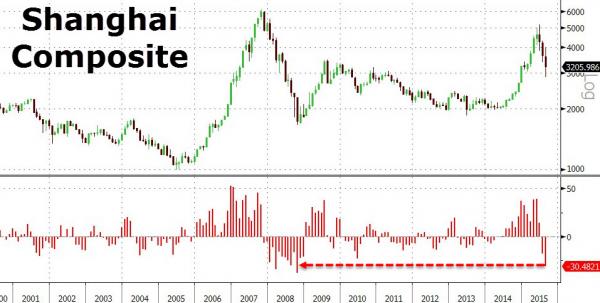 And with Parade Week under way, the propaganda continues...
*PBOC ACADEMIC URGES ATTENTION ON STOCK MKT STABILITY: SEC TIMES
Which, he writes, means market expectations should be optimistic about the economy as they were during the bull market... even though there seems to disconnect between economic fundamentals and the stock market, while the gap between the link, it is the reflection of the policy.
Which roughly translated means - In China, hope is a strategy.. and if you are anything but hopeful you are arrested.
But then China PMI hit...
*CHINA MANUFACTURING PMI AT 49.7 IN AUG. - 3 Year Low - The Official PMI in contraction for first time in 6 months.
*CHINA NON-MANUFACTURING PMI AT 53.4 IN AUG.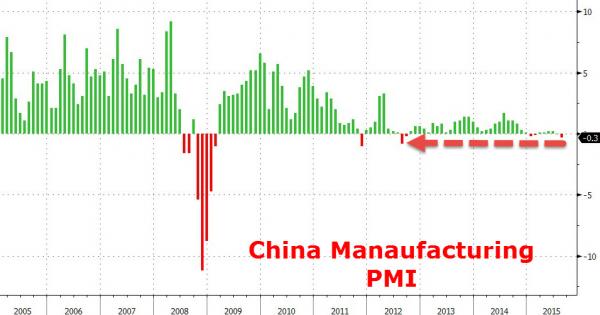 "Both domestic and external demand are weak," said Tommy Xie, an economist at Oversea-Chinese Banking Corp. in Singapore. "Market sentiment is bad and it's too early to say the Chinese economy is bottoming out."
Don't forget - Hope fills the gap.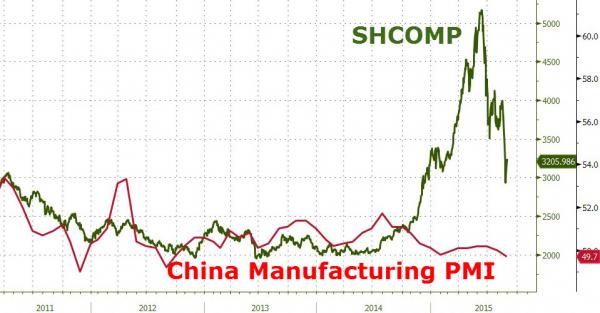 So having switched its focus to more economic-growth-focused measures than stock-levitation, $100s of billions later, the economy keeps sliding.
Of course, there is always the unofficial Caixin print at 2145ET to baffle everyone with bullshit.
*  *  *
There is some good news... The delveraging continues:
*SHANGHAI MARGIN DEBT BALANCE FALLS TO LOWEST IN EIGHT MONTHS
Outstanding balance of Shanghai margin lending fell to 673.1b yuan on Monday, lowest level since Dec. 25.
Balance dropped by 1.5%, or 10b yuan, from previous day, in a 10th straight decline
But then again, we are not sure if we are allowed to mention that. And in any case - just to screw things up completely, China is goping full subprime in the real estate market...
China may strengthen property loosening and reduce down payment ratio on commercial mortgage loans if property investment remains weak, analysts led by Ning Jingbian write in note.

 

Move to boost mkt confidence in short term, though real policy effect may be impaired due to caps on housing provident fund loans
Yeah - because loosening standards and lowering upfronts worked out so well for America's already inflated housing market.!!
Asian equity markets are not happy...
*JAPAN'S NIKKEI 225 MAINTAINS LOSS AFTER CHINA PMI; DOWN 1.5%
*CHINA FTSE A50 STOCK-INDEX FUTURES FALL 1% AT OPEN
*CHINA SHANGHAI COMPOSITE SET TO OPEN DOWN 1.5% TO 3,157.83
*CHINA'S CSI 300 INDEX SET TO OPEN DOWN 2.1% TO 3,296.53
After two days of stronger Yuan fixes, PBOC goes crazy and drastically strengthens Yuan...
*CHINA SETS YUAN REFERENCE RATE AT 6.3752 AGAINST U.S. DOLLAR
That is the biggest single-day strengthening since Nov 2014...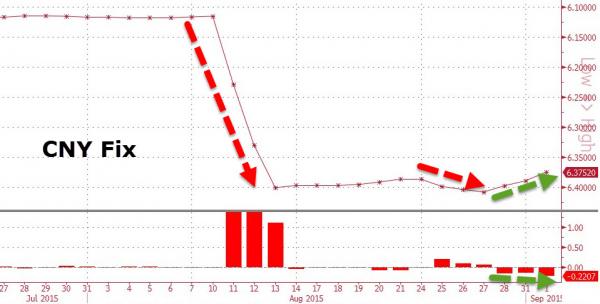 We are not sure of the implications yet but it seems like a tightening of financial conditions:
*PBOC SAID TO MAKE BANKS TRADING FX FORWARDS HOLD RESERVES: RTRS
*PBOC FX FORWARD RESERVE RATIO SAID TO BE 20% FOR NOW: REUTERS
Charts: Bloomberg