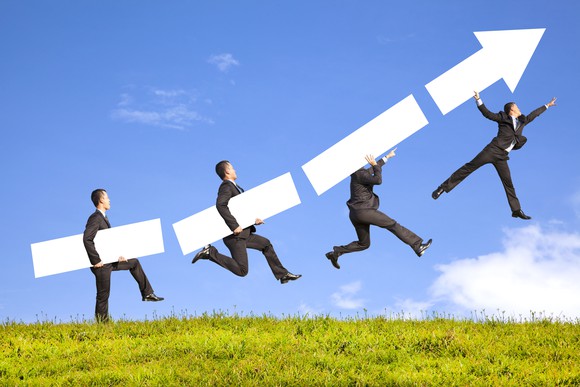 Investing in companies with superior growth potential can be a powerful strategy for market-beating returns. At the end of the day, a stock is simply a share in the ownership of a company. All else the same, the bigger the potential for sustained growth in the business, the larger the expected gains for investors over the years.
Companies such as Expedia (NASDAQ:EXPE) and Match Group (NASDAQ:MTCH) are not only growing rapidly nowadays, they also have a lot of room for expansion going forward, and this could be a powerful return driver for investors in these businesses over the years and even decades ahead.
Making reservations for long-term growth
Consumers across the world are increasingly relying on all kinds of websites and mobile applications to compare prices and purchase a wide variety of products and services. The travel industry is going through a major transformation due to new technologies and changing consumer habits, and Expedia is one of the main beneficiaries from such trends.
Operating under brands such as Expedia.com, Hotels.com, Travelocity, Orbitz, Wotif, AirAsia, and HomeAway, among others, the company owns several platforms that provide access to hotel rooms, airline tickets, rental cars, and cruises.
As of Q2 2016, Expedia has over 307,000 hotels available on its platforms, an increase of 20% year over year. Scale is a crucial competitive advantage in the industry, a bigger platform generally means a more recognizable brand and better opportunities for customers to find the best deals.
Expedia produced $3.8 billion in gross bookings during the second quarter of 2016, growing by 25% versus the same period in 2015. Total revenue did even better, jumping by 32% to $2.1 billion. The company registered an increase of 20% in room night reservations versus the same quarter in 2015, so the...
More