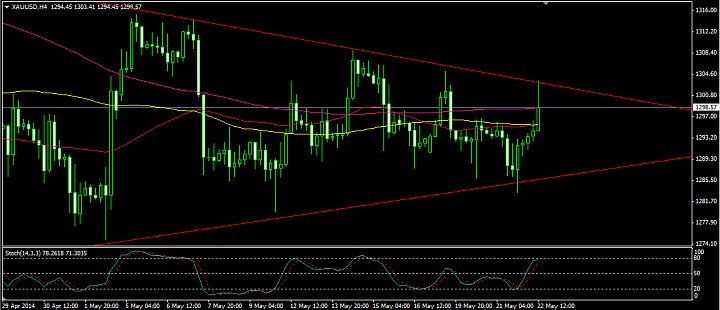 Gold is surging today on the 4 hour chart but still seems to be within the consolidation range.The metal is experiencing resistance from the downward sloping resistance trend line. Breakout from this resistance trend line will confirm the bullish movement of Gold.
Looking at the moving averages on the 4 hour chart, the 50 day SMA just now crossed the 100 day SMA  to move in upward direction which is confirming the bullish movement. So technically the pair should breakout from this resistance trend line.
Now the question is from where this surge came? As we all know Gold always react opposite of US dollar, today increased unemployment claims numbers provided surge to Gold. Meanwhile investors continue to weigh uncertainty in Ukraine crisis after almost 11 Ukrainian soldiers died in an attack on troops. Some part of surge also came from India after India's Central Bank decided to ease import rules for gold by allowing private trading companies to bring metal to the country. India is the second largest consumer of gold and thus should boost the prices.