With a no longer "patient" Fed set for "liftoff" sometime this year, some observers (including IMF chief Christine Lagarde) are bracing for emerging market turbulence. A new paper from the Center for Global Development attempts to discern which EMs are most vulnerable to an "external shock" (be it geopolitical or financial) and also seeks to determine which countries are more prepared to weather a storm now than they were pre-crisis. According to the study, the relevant factors are 1) current account balance, 2) ratio of external debt to GDP, 3) ratio of short-term external debt to reserves, 4) fiscal balance to GDP, 5) government debt to GDP, 6) inflation versus targeted inflation, and 7) financial "fragility". 
From the study:
The values of the indicator for 2007 and 2014 are presented as well as the country rankings in both years. According to this methodology, the greater the value of the indicator the more resilient a country's macroeconomic performance to external shocks is assessed to be.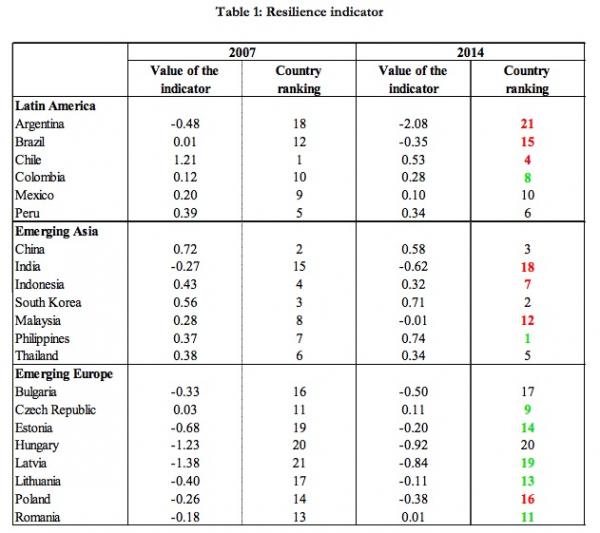 And here's The Economist, simplifying things a bit further: 
How resilient are emerging-market economies? Many are struggling, thanks to the economic impact of a strong dollar. But what would happen if things suddenly got a lot tougher? A new paper, from Liliana Rojas-Suarez of the Centre for Global Development, a think-tank, offers some interesting data.

 

Let's imagine that something really bad happens. The Federal Reserve tightens its monetary policy too soon; some new global debt crisis begins; Russia launches a full-scale invasion of Ukraine. Ms Rojas-Suarez wants to understand which emerging-market economies are most vulnerable.