Tesla has partnered with home-sharing startup Airbnb, pushing its efforts to install more Superchargers for Model S owners. The EV firm has already spent millions to build a network of charging stations around the world, and the latest move will help it put chargers in select rental locations.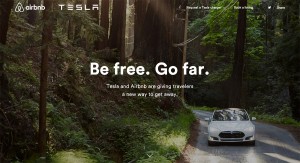 "Now Tesla owners have more awesome destinations with the launch of @AirBnb Tesla charging http://airbnb.com/tesla," the EV firm said in a tweet.
A few month ago, Tesla CEO Elon Mush introduced features like range assurance and a trip planner to address the so-called "range anxiety" issue among drivers. Similarly, the partnership with Airbnb aims to ensure that Tesla owners are not far from...
More