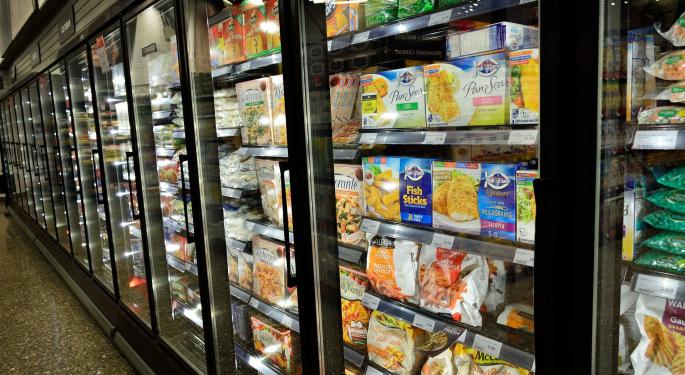 Shares of Tyson Foods, Inc. TSN 1.92% hit a new 52-week high of $70.44 Monday morning after the company reported its first quarter results.
Tyson Foods said it earned $1.07 per share in the first quarter on revenue of $9.17 billion. Wall Street analysts were expecting the company to earn $0.96 per share on revenue of $9.04 billion.
Tyson Foods also revised its full year earnings per share guidance higher to a range of $4.20 to $4.30 per share from a previous range of $3.85 to $3.95.
Related Link: Did Tyson Really Win The Hillshire Takeover Battle?
CNBC's Jim Cramer discussed Tyson Foods' results during Monday's "Mad Dash" segment.
Cramer highlighted Tyson Foods' 2014 merger with Hillshire Brands, which was initially perceived by some to be expensive as the food company paid a nearly 70 percent premium for the acquisition.
According to Cramer, the acquisition turned out to be "inexpensive" and "it worked" based on Tyson's "huge" hike in its full year guidance.
Cramer highlighted Tyson Foods expected synergy-related savings to be in excess of $200 million above the amount of synergies realized last year. The expects total synergies to be more than $500 million in fiscal 2016 and more than $700 million in fiscal 2017 due its acquisition of Hillshire Brands.
As such, Cramer suggested that Tyson Foods evolved from a "commodity company" and now its a "proprietary company."
© 2016 Benzinga.com. Benzinga does not provide investment advice. All rights reserved.