First Solar (FLSR) appears to have finally bottoted after falling through most of the year from a high near 74 to a low near 34. 

FLSR Daily Chart 10/25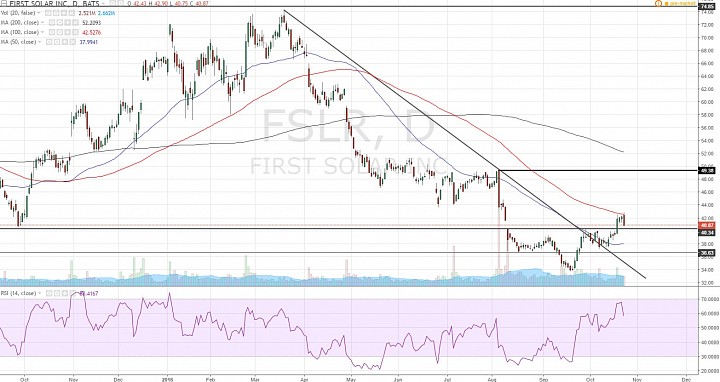 (click to enlarge)
Price bottom:
- The daily chart shows FSLR completing a price bottom, something like a inverted head and shoulders that is a bit tilted.
- The key feature of price action since September is the higher high and higher low, breaking the prevailing pattern of lower highs and lower lows.
- Also note that price has broken above a falling trendline. 
- This bullish breakout and completion of a price bottom opens up the 44.00 handle first, but also the previous resistance pivot just under 49.50. 

Pullback:
- Before the bullish scenario, FLSR appears to be entering a bearish one again, but this might be just a short-term pullback.
- If FLSR is to remain bullish, it would mean the market seeing and respecting the price bottom.
- There should be buyers around 38.00 in the bullish scenario. 
- A break below 36.60 on the other hand would suggest that last week's bullish breakout was "fake". This would in turn suggest a bearish continuation with 34.00 in sight and with further risk downwards.