Lockheed Martin Corp. LMT has once again declared a hike in its quarterly dividend to reward its valuable investors. Per the latest hike, the company will pay a dividend of $2.00 per share in the fourth quarter of 2017, reflecting a 10% rise from the previous dividend of $1.82. This will result in annualized dividend worth $8.00 and the consequent dividend yield of 2.6%, based on its current price of $310.29.

Interestingly, this hike marks the 15th year in a row when this defense prime has increased its quarterly dividend rate by 10% or more. On Dec 29, 2017 management will pay the surged dividend to its shareholders of record as of the close of business on Dec 1, 2017.

The Raised Share Repurchase Plan

Under Lockheed Martin's current program, it has recently authorized additional share repurchase of $2 billion, thus bringing the company's total authorization value to $4 billion for future share repurchases.

Notably, during the six months that ended on Jun 25, 2017, Lockheed Martin repurchased 3.8 million shares of its common stock for $1 billion. At that time the company was left with a share repurchase authorization of $2.5 billion.

Our View

Certainly, the aforementioned announcements made by Lockheed Martin are indicative of its strong capital structure. In fact, a meticulous study of the company's recent cash flow statement reveals the generous amount of cash this defense major generates. Also, it justifies the fact that huge demand for Lockheed Martin's industry-leading combat equipments have made it the largest defense contractor in the United States.

During the second quarter, Lockheed Martin generated cash from operations worth $1.54 billion, up 4.8% year over year. Again, the company bought back 1.9 million of shares for $500 million. Markedly, with about $278 million in capital expenditures in the reported quarter, it had $1.3 billion of free cash flow at the quarter-end. Also, the company paid dividends of $525 million and returned 81% of free cash flow to its stockholders. This in turn reflects Lockheed Martin's strong cash deployment strategy.

Based on Lockheed Martin's strong financial position and the several major contracts that it has been winning, we expect the company's shareholders to witness similar dividend hikes, going forward.

Price Performance

Lockheed Martin's stock has rallied 28.5% in the last year, underperforming the broader industry's gain of 49.3%. This could be because the earlier budget cuts have put pressure on the company's top line growth.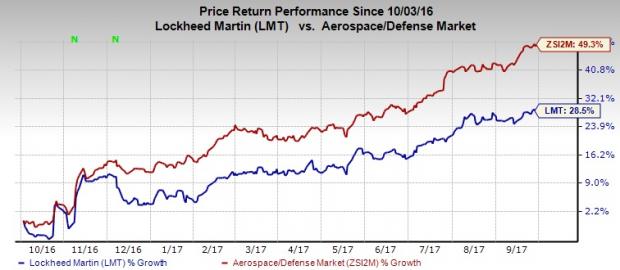 Zacks Rank &Stocks to Consider

Lockheed Martin carries a Zacks Rank #3 (Hold). Better-ranked stocks in the aerospace and defense space include Engility Holdings, Inc. EGL, Leidos Holdings, Inc. LDOS and Northrop Grumman Corp. NOC. While Engility Holdings and Leidos Holdings sport a Zacks Rank #1 (Strong Buy), Northrop Grumman holds a Zacks Rank #2 (Buy). You can see the complete list of today's Zacks #1 Rank stocks here.

Engility delivered an average positive earnings surprise of 23.50% in the last four quarters. The Zacks Consensus Estimate for current-year earnings moved up 2.3% in the last 60 days.

Leidos Holdings delivered an average positive earnings surprise of 18.01% in the last four quarters. The Zacks Consensus Estimate for current-year earnings moved up 1.1% in the last 30 days.

Northrop Grumman pulled off an average positive earnings surprise of 12.60% in the last four quarters. Its 2017 earnings estimates inched up 0.2% in the last 30 days.

Today's Stocks from Zacks' Hottest Strategies

It's hard to believe, even for us at Zacks. But while the market gained +18.8% from 2016 - Q1 2017, our top stock-picking screens have returned +157.0%, +128.0%, +97.8%, +94.7%, and +90.2% respectively.

And this outperformance has not just been a recent phenomenon. Over the years it has been remarkably consistent. From 2000 - Q1 2017, the composite yearly average gain for these strategies has beaten the market more than 11X over. Maybe even more remarkable is the fact that we're willing to share their latest stocks with you without cost or obligation.

See Them Free>>
Want the latest recommendations from Zacks Investment Research? Today, you can download 7 Best Stocks for the Next 30 Days.
Click to get this free report
Northrop Grumman Corporation (NOC): Free Stock Analysis Report
Lockheed Martin Corporation (LMT): Free Stock Analysis Report
Engility Holdings, Inc. (EGL): Free Stock Analysis Report
Leidos Holdings, Inc. (LDOS): Free Stock Analysis Report
To read this article on Zacks.com click here.
Zacks Investment Research