Air Products APD inked a long-term gas supply agreement with Huntsman HUN. Per the deal, Air Products will build, own and operate a new steam methane reformer (SMR) and cold box in Geismar, LA. Air Products facilitieswhich will supply hydrogen, carbon monoxide (CO) and steam to Huntsman's Geismar operationsare expected to be onstream in Jan 2020.
The new facility will be located on land leased from Huntsman. The facility will produce around 6.5 million standard cubic feet per day (MMSCFD) of CO, 50 MMSCFD of hydrogen, and up to 50,000 pounds per hour of steam. According to Air Products, the new state-of-the-art facility will provide high reliability and sustainability with enhanced energy efficiency and will help to lower emissions.
Geismar is one of Huntsman's three world-scale MDI production facilities, which mainly serves North and South America. Apart from supplying at Huntsman's production facility in Geismar, Air Products' new plant will also be connected to its Gulf Coast hydrogen pipeline and network system (GCP).
Air Products has outperformed the Zacks categorized Chemicals-Diversified industry over the last three months. The company's shares have moved up 7.9% over said time frame, compared with roughly 7.8% gain recorded by the industry.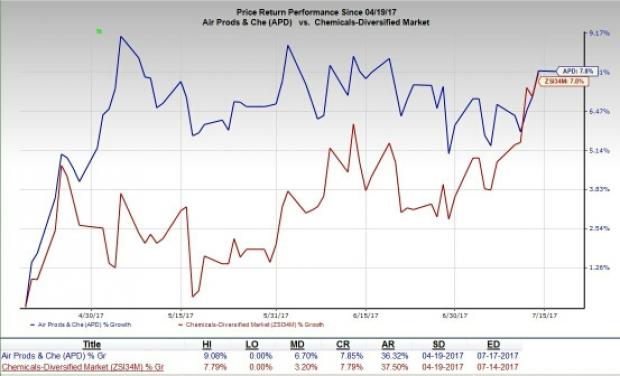 Air Products has a significant amount of cash to invest in its core industrial gases business. The company expects to have roughly $8 billion to deploy in strategic, high-return opportunities to create shareholder value over the next three years.
For fiscal 2017, Air Products expects adjusted earnings per share of $6.00 to $6.25, which at midpoint, represents a 9% increase over the last year. For third-quarter fiscal 2017, Air Products anticipates adjusted earnings per share from continuing operations of $1.55 to $1.60 per share, which at midpoint, also represents a 9% increase over the last year.
Air Products is well placed to leverage the cyclical recovery in core industrial end-markets. The company has a strong project backlog and is expected to benefit from cost-reduction measures and a diverse customer base. Moreover, acquisitions, strategic investments and new business deals are expected to be accretive to its earnings and cash flows.
However, Air Products' industrial gases business in the EMEA region is seeing pressure from a weak operating environment. The company is also seeing lower volumes in Latin America due to weak demand. Moreover, volumes in packaged gases continue to be weak while LNG sales remain under pressure due to low project activity. The company is also exposed to currency headwinds.
Air Products and Chemicals, Inc. Price and Consensus
Zacks Rank & Stocks to Consider
Air Products currently carries a Zacks Rank #3 (Hold).
Some better-ranked companies in the basic materials space are The Sherwin-Williams Company SHW and Ternium S.A. TX. Both stocks sport a Zacks Rank #1 (Strong Buy). You can see the complete list of today's Zacks Rank #1 stocks here.
Sherwin-Williams has expected long-term earnings growth rate of 11.4%.
Ternium has expected long-term earnings growth rate of 18.4%.
5 Trades Could Profit "Big-League" from Trump Policies
If the stocks above spark your interest, wait until you look into companies primed to make substantial gains from Washington's changing course.
Today Zacks reveals 5 tickers that could benefit from new trends like streamlined drug approvals, tariffs, lower taxes, higher interest rates, and spending surges in defense and infrastructure. See these buy recommendations now >>
Want the latest recommendations from Zacks Investment Research? Today, you can download 7 Best Stocks for the Next 30 Days.
Click to get this free report
Air Products and Chemicals, Inc. (APD): Free Stock Analysis Report
Huntsman Corporation (HUN): Free Stock Analysis Report
Sherwin-Williams Company (The) (SHW): Free Stock Analysis Report
Ternium S.A. (TX): Free Stock Analysis Report
To read this article on Zacks.com click here.