Agilent Technologies is going to report their earnings after the market closes. It would be an interesting earnings call from $19B company, because they exceeded three previous analysts estimates in a row. Last quarter they showed the following numbers: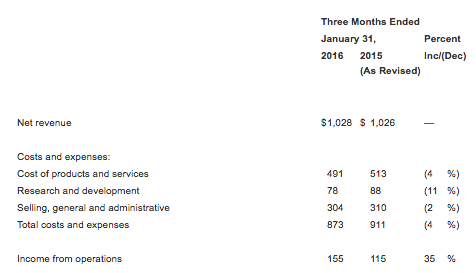 As you can see, the revenue almost didn't change, while the margins improved due to decrease in costs. So PL was good last quarter, what should we wait for this quarter? 
Analysts are super positive on this one:

Their forecast in terms of revenue is more or less the same as for the previous quarters:

Moreover, the company has made the $80 million investment into Emerging Biotechnology Company Lasergen (press release is right here): 
With this investment, Agilent will acquire a 48-percent ownership stake in privately held Lasergen and will join the board.Agilent has the option to acquire the remaining shares of Lasergen until March 2, 2018, for an additional consideration of$105 million. Lasergen is an innovative research and development company dedicated to the advancement and commercialization of unique nucleotide chemistries with particular focus on sequencing. While Lasergen's proprietary photocleavable chemistry can be used in a wide variety of applications, the Lightning Terminators are specifically being developed as part of an NGS platform that includes chemistry, instrumentation and software. The Houston, Texas-based company was founded in 2002.
It looks like everything looks good for the company, I am not waiting for a huge changes in its share price after the earnings. Most likely they will report in line with analysts estimates. 
UPD. Agilent Technologies reported Q2 EPS of $0.44, $0.05 better than the analyst estimate of $0.39. Revenue for the quarter came in at $1.02 billion versus the consensus estimate of $983.26 million.