Shares of GLUU have been rallying in the past couple of weeks. This comes after sliding from a high of 4.00 in February to a low of 1.73 at the end of October. 
Mark Holder explains his optimism in this stock:
The biggest move was probably the $45.5 million all cash deal to purchase Crowdstar. The game developer had previously released the popular Covet: Fashionthat ranks as a Top 100 grossing game. The second big move was the transition in the CEO position. Long time CEO Niccolo de Masi is transitioning to the Chairman position with Nick Earl becoming the new CEO. Nick previously worked in top roles at Kabam and Electronic Arts (EA)...Read More
Let's take a look at the weekly chart of GLUU: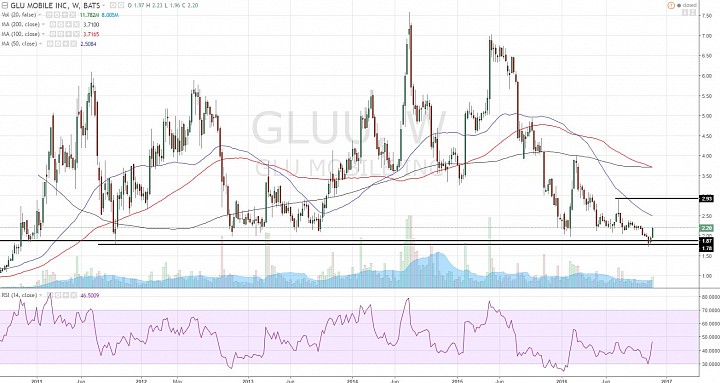 (click to enlarge)
Critical support holding:
- The weekly chart shows that price came awfully close to breaking the critical support in the 1.75-2.00 area, which goes all the way back to 2010. 
- Price actually cracked the support but rebounded nicely. 
- I think its worth considering a buy-on-a-dip around 2.00. 
- If the upside is to 2.90 (about a 30% run), and the downside is 1.70 (15%), then there is essentially a 2:1 reward to risk profile. 
- I would say that upside could extend towards 3.50, which is another common support/resistance pivot area.
- The 2016-high of 4.00 is not out of the question, but is probably an aggressive target. A trade from 2.00 should probably take some profit before reaching 4.00 in case the current rally is just a "dead cat bounce", which would be followed by a bearish continuation swing that will break through the noted critical support.