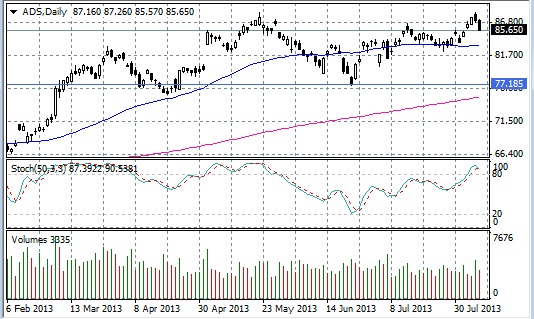 Today Adidas presented its quarterly results that turned out to be unsuccessful because of "lackluster" sales in Europe and unfavorable currency impacts and cut its forecasts for 2013.
The company says that the group's goals for the full year will be more challenging that when initially announced and sales are now expected to grow at a low- to mid-single-digit rate on a currency neutral basis.
Then second-quarter net income rose 4.2 percent to 172 million euros ($230 million) that compares with the 175.8 million-euro average estimate of 13 analysts surveyed by Bloomberg. Sales in the quarter declined 3.8 percent to 3.38 billion euros, compared with the 3.43 billion-euro average estimate.
Looking at the daily chart we may see that the stock is oversold so I think it's time to sell at least in the short term.