For those who enjoy going through offbeat anniversaries, today's pick by Art Cashin is sure to raise a few eyebrows.
On this day in 1955, the police were called to the five story, Fifth Avenue, mansion of Serge Rubenstein. There they found the corpse of the controversial 46 year-old "Financier." He had been strangled with a curtain cord.

 

Rubenstein embodied in one man everything that would later be called "the sins of the eighties." He was greedy. He was flashy. He was a raider. His operations were shrouded in mystery and covered by dummy companies. And he used the press to exaggerate his wealth, so that he could bump up his credit with gullible bankers. He had been the guest of presidents and potentates. And through it all most folks thought he was a real slime ball.

 

In covering his murder, Time magazine felt he had so many enemies that, with only a little tongue in cheek, Time congratulated the New York City police on having "....narrowed the list of suspects down to 10,000." It never got narrower.

 

To note the date, stop by a dimly lit bar and sip a Black Russian. Try not to make any friends and don't pay cash. But stay away from the curtains.
Stocks didn't get strangled Monday. Instead, they were run over by a speeding salt spreader, as states, cities and organizations hunkered down for a classic blizzard. Mother Nature, trickster that she is, moved the storm further offshore than models had projected. That led to snowfall less than one-third of the worst estimates.

 

Nonetheless, as I write this in the pre-dawn hours in lower Manhattan, Wall Street is a ghost-town. No traffic. No papers. No coffee and almost no people. New York lives through its subways. It may be hours to get them back up and running.
Snor'easter aside, here is some more from the archives on the curious death of Rubinstein...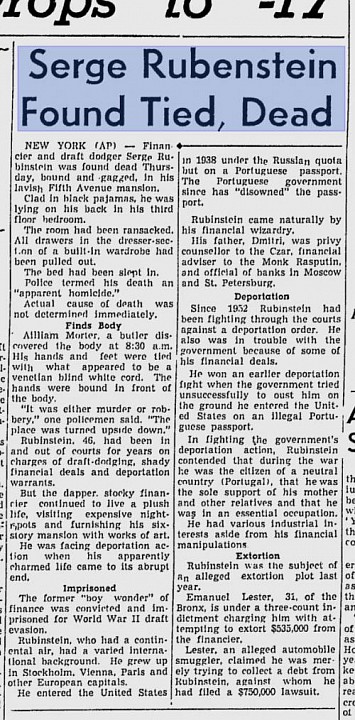 ... which is still unsolved:
Serge Rubinstein: The butler didn't do it

 

The New York police did not lack for clues or suspects when they found the body of millionaire Serge Rubinstein in the third-floor bedroom of his Fifth Avenue mansion the morning of Jan. 27, 1955. The pajama-clad body was sprawled near a photograph of Rubinstein as Napoleon, a favorite costume-party role. His hands and feet were tied with venetian-blind cord and his mouth sealed with a wide band of adhesive tape. He had been strangled. In the room were a dozen fingerprints that weren't Rubinstein's, a woman's white dress glove and a handbag. Rubinstein, a womanizing stock manipulator, knew so many people—many of them enemies—that he kept six thick notebooks containing their names. His police dossier indicated that he was a cad only a mother could love, and the police weren't entirely sure about her. (She lived on the floors above him.) Rubinstein even had a butler, who found the body.

 

Serge Manuel Rubinstein was the son of a financial adviser to czarist Russia's maniacal monk Rasputin. At the age of 10 he fled the Bolshevik revolution carrying a fortune in jewels in his knickers. Cambridge-educated, he became the managing director of a small French bank at 24, and a year later launched a Franco-Asian stock-rigging scheme that netted him millions and eventual expulsion from France for imperiling the franc. In 1938, at age 30, he came to the U.S., and to avoid the draft he got married and fathered two children. Nonetheless, he was sent to prison for two years for draft evasion. Once out, he divorced his wife, shamelessly manipulated both stocks and beautiful women and, with the aid of a battery of expensive lawyers, fended off U.S. efforts to deport him.

 

The very abundance of suspects was the cops' undoing. In the 21 years since the murder, they have interviewed thousands of persons—one of the most extensive investigations in the New York homicide squad's history. The department still has not closed the book on Rubinstein. "His background left a lot of openings," says retired detective Raymond Seiler, who worked full-time on the case for three years. "Every turn you took, there was other speculation." Detectives never could match up the fingerprints with suspects, who included a Canadian financier, a Japanese banker, Rubinstein's sex partners and a Queens chauffeur who had once planned to kidnap him. The glove and bag belonged to a woman who dated him well before his death. Mother Rubinstein was ruled out—"She even held a seance to find out who killed him," Seiler recalls. The butler proved to be one of the few admirers Rubinstein had in the world.