Durable-goods orders decline sharply in December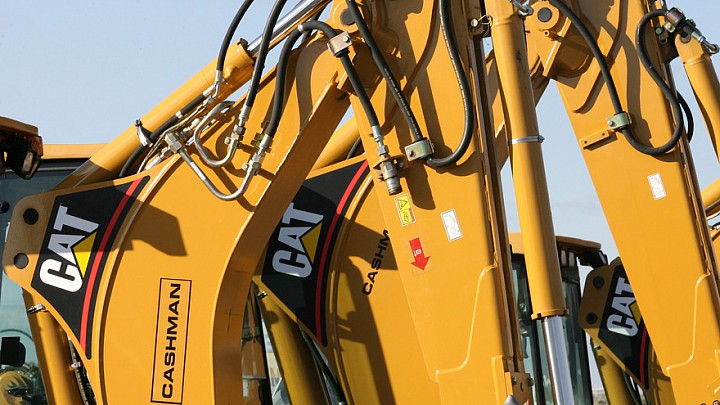 Bloomberg News
Caterpillar is among the big blue chips whose earnings have disappointed

U.S. stocks recorded their biggest decline in three weeks on Tuesday, following a surprise drop in durable-goods orders and disappointing earnings from Microsoft Corp. and Caterpillar Inc.
The weak data stoked fears that economic growth is decelerating
The S&P 500 SPX, -1.34% closed down 27.53 points, or 1.3%, at 2,029.56, as Microsoft Corp. MSFT, -9.25% and Caterpillar Inc. CAT, -7.18% plunged to lead losses. The Dow Jones Industrial Average DJIA, -1.65% dropped as much as 380 points, but closed down 291.49 points, or 1.7%, at 17,387.21. The Nasdaq Composite COMP, -1.89% ended the day with a loss of 90.27 points, or 1.9%, at 4,681.50, as its largest component, Apple Inc. AAPL, +6.56% slid 3.5%.
Jonathan Golub, chief market strategist at RBC Capital Markets, said weakness in economic data and company earnings are behind the selloff.
"Markets are down nicely, but in larger contexts, they are off only 3-4% from their peaks. This does not alter our general view that markets will gain in 2015. U.S. stocks will benefit from capital flows from foreign investors, due to stronger dollar and relative strength of our economy," Golub said.
Tuesday's unexpected drop in orders for durable goods aren't a worry because they support his projection that the economy will grow 2.5%, rather than the consensus call of 3%, he said.
"We believe the 2.5% growth is the new benchmark," he added.
Economists had expected a modest rise, but orders fell 3.4% in December, and November data were also revised downward. Analysts said the data will make the Federal Reserve's task of raising rates this year harder.
Colin Cieszynski, chief market analyst at CMC Markets, said the negative effects of the plunge in commodities prices are showing up in economic data, but the benefits are lagging.
"The slowdown pushes the Fed's rate-hike schedule a bit further into the fall or even toward the end of the year. We expect to see some more layoffs due to cuts in capex in the energy sector. It will take some time before consumers realize that low gas prices are here to stay and open up their purses," Cieszynski said.
marketwatch