For those eager to cut to the chase and curious if overnight we have had another standard USDJPY ramp levitating US equity futures on low volume, the answer is yes. And since the USDJPY carry was patient enough, it managed to trigger the 2100 ES stops and as of this moment the futures were comfortably on the politically-correct side of 2100.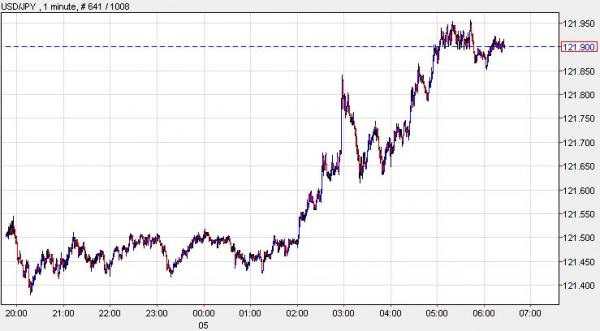 The levitation is across the board:
S&P 500 futures up 0.3% to 2102
Stoxx 600 up 0.1% to 381
MSCI Asia Pacific down 0.2% to 135
US 10-yr yield up less than 1bp to 2.23%
Dollar Index up 0.09% to 98.04
WTI Crude futures up less than 0.1% to $46.35
Brent Futures up 0.3% to $48.73
Gold spot up less than 0.1% to $1,108
Silver spot down 0.4% to $15.03
With the summary out of the way, let's look at the key overnight event in an otherwise sleepy tape which for the second day in a row came out of China, where starting with yesterday's purposefully "leaked" old news by the PBOC that led to a limit-up surge in brokers, today we saw a continuation of this with euphoric sentiment and the SHCOMP soared in early trading, jumping over 20% from its August lows and entering a fresh bull market. This is the 3rd time since the crash in June that Chinese stocks have staged a substantial.
To be sure, the rally is not based on fundamentals, with China's GDP continuing to slide, its commodity sector under gruelling stress, and as moments ago China's Mofcom reported:
CHINA MOFCOM: MAJOR COMMODITY PRICES TO STAY LOW INTO NEXT YR
CHINA MOFCOM: EXPECTS SHARP DROP IN IMPORTS THIS YEAR
CHINA MOFCOM: DIFFICULT TO SEE FAST EXPORT GROWTH IN Q4
So what is going on? The following three charts from Bloomberg explain it.
First, short sellers are now officially gone (and unofficially arrested). Per BBG, "Short sellers have largely been shut out of China's market after curbs by both the government and brokers made it more difficult to bet on falling share prices."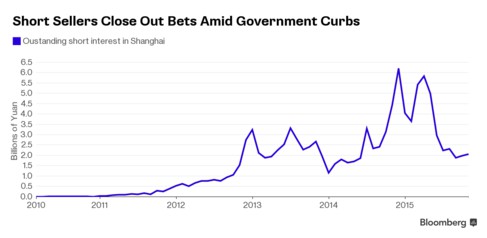 Then, just like with Bitcoin, there has been a recent surge in volume: "Trading has picked up in Shanghai as shares rallied, an indication that ordinary investors are starting to take over from the government-run funds that propped up prices during the depths of the rout."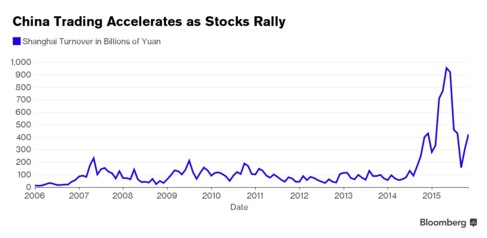 Most importantly, margin debt is once again coming back: "Investors are slowly rebuilding positions using borrowed money. Margin financing surged to more than 2.2 trillion yuan at the height of the stock boom, before falling by more than half in the bust. It's now back above 1 trillion yuan, adding fuel to the rally but also raising the odds of bigger price swings."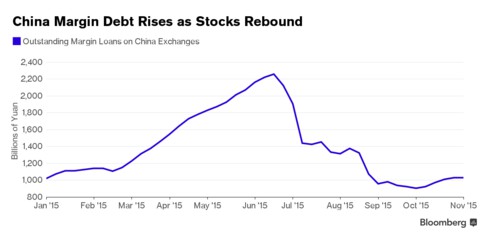 End result: Chinese markets closed higher with the Shanghai Comp. (+2.2%) in bull-market territory. Even with this latest surge, it remains around 30% lower than their June highs, which were the highest levels seen in the index for 7 years.
Elsewhere in Asia equity markets traded mixed following the weak close on Wall St.
where commodity weakness and prospects for a December rate hike weighed
on sentiment. This saw pressure in the ASX 200 (-0.9%) with financials
among the underperformers, after earnings from CBA. Nikkei 225 (+1.0%)
was lifted as JPY remains weak, following strong results from Japan
Tobacco and Fast Retailing's Uniqlo.
Asian wrap:
MSCI Asia Pacific down 0.2% to 135
Nikkei 225 up 1% to 19116
Hang Seng down less than 0.1% to 23051
Shanghai Composite up 1.8% to 3523
S&P/ASX 200 down 0.9% to 5193
Key Asian news from BBG:
Australia Halts RMBS Auctions After Volumes Less Than Expected: No bids were accepted by govt at last RMBS auction
Draghi Beating Kuroda in Easing Drives Europeans to Japan Debt: Foreign buying of JGBs reaches record for Jan.- Sept. period
JPMorgan India Fund Woes Spurs Tighter Redemption Regulations: Sebi demands greater disclosures from credit rating agencies
China Regulator Probes Accusations Alibaba Pressured Merchants: Agency accepts request to examine Singles' Day tactics: JD
* * *
On to Europe where stocks are likewise solidly in the green after the latest disappointing news out of Germany where German industrial orders dropped "unexpectedly" in September due mainly to weaker foreign demand, in a sign that Europe's biggest economy may loose steam at the end of this year.
According to Reuters, contracts for 'Made in Germany' goods were down by 1.7% on the month, the economy ministry said on Thursday. It is the first time since the summer of 2011 that orders have dropped for three consecutive months and compares with a Reuters consensus forecast for a rise of 1.0 percent.
If that wasn't enough to push the Stoxx50 higher, we also got a miss in EU Retail Sales, which declined -0.1% in October, down from 0.0% in September and below the 0.2% increase expected.
Ironically, at the same time, the EU released its latest forecast for 2015 which saw an increase for 2015. The WSJ reports that "low oil prices and easy money will boost European growth this year more than previously expected, the European Union said Thursday, but it cautioned that a slowdown in emerging economies and increased global uncertainty could damp the economy's positive momentum."
Economists at the commission forecast that gross domestic product in the 19-nation eurozone would grow 1.6% this year, up from their previous estimate in May of 1.5%. They predicted growth of 1.9% in the 28-nation EU, up from 1.8% in May. However, the commission slightly trimmed its forecasts for next year, seeing eurozone growth at 1.8%, down from the 1.9% it forecast in May and EU growth at 2%, down from the previously forecast 2.1%.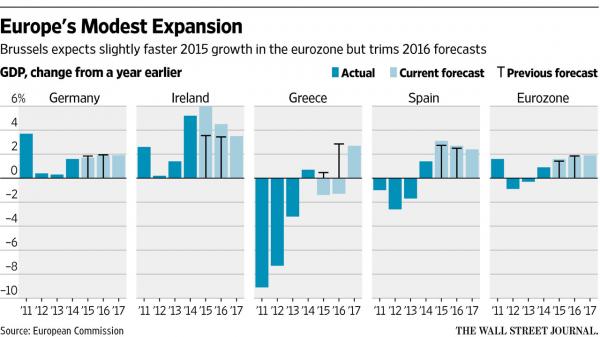 It is not clear why this is not bad news for markets since an increase in growth expectations makes more Q€ less likely, although the answer is simple: nobody believes the forecast.
As a result of this negative current data coupled with clueless optimistic forecasts, stocks in Europe are broadly up, with the Euro Stoxx: 0.5%, with defensive sectors outperforming ahead of key risk events later today in the form of the BoE's Super Thursday and US NFP tomorrow, while Bunds trade marginally lower in line with today's supply, which equates to around 109k Bund futures and the Short-Sterling curve trades a touch steeper as market participants position for the upcoming BoE events. In terms of stock specific news, Adecco (-8.8%) and Credit Agricole (-6.0%) are among the worst performers after reporting their earnings pre market.
Europe Wrap:
Stoxx 600 up 0.1% to 381
FTSE 100 down 0.4% to 6385
DAX up 0.6% to 10905
German 10Yr yield down 1bp to 0.59%
Italian 10Yr yield down less than 1bp to 1.67%
Spanish 10Yr yield up less than 1bp to 1.76%
S&P GSCI Index down 0.2% to 359.5
Key European news from BBG:
German Factory Orders Unexpectedly Decline for Third Month: Indicator unexpectedly extended a series of declines in September amid a slump in demand for investment goods in the euro area.
SocGen Net Rises on Consumer Bank Before Branch Closures: Co. reported 28% increase in 3Q profit on improved consumer- banking results that outweighed a slump in trading revenue.
Adidas Raises 2015 Forecasts, Plans to Cut Jobs at Golf Unit: Co. raised FY forecasts, said it's cutting jobs at its languishing golf-gear division as it tries to appease investors pushing for faster change.

In FX markets, EUR saw initial softness after the unexpected fall in German factory orders (M/M -1.70% vs. Exp. 1.00%), however EUR/GBP has since recovered and trades little changed , with EUR/USD also initially moved higher on touted profit taking following the recent slide, while EUR/USD 1-month vol which captures Dec ECB policy meeting remains elevated and trades at 12.4 (vs.9.6 on Monday) and despite the negative outlook for the pair, touted corporate buying and option hedging flow saw the pair recover off overnight lows. Elsewhere, USD/JPY earlier saw strength after tripping stops on the break of yesterday's high, however further upside by USD/JPY has been capped by touted double-no-touch (DNT) expiry at 122.00 (118.00 and 122.00 structure).
RBA Governor Stevens said that accommodative policy would be appropriate for some time and if policy were to change, it would be easing rather than tightening . Stevens also commented that he doesn't see a significant effect of the bank mortgage increases which so far is equal to around a half of a 25bps rate reduction.
In commodities, oil trades relatively flat in what has been a choppy session for commodities after yesterday saw DoE crude oil inventories (W/W 2847K vs. Exp. 2500K, Prey. 3376K) showed a greater than expected build causing WTI and Brent prices to fall. NatGas has trended lower with the EIA natural gas storage change later today expected to show a build (Exp. 53bcf, Prey. 63 bcf). The metals complex has seen gold trade relatively flat to remain near their lowest levels in a month following comments from Fed Chair Yellen that a December Fed hike remains a live possibility.
On today's calendar, the main focus in the European session today will be the UK's BoE meeting which will see the latest inflation report released, the meeting minutes and also comments from the BoE's Carney shortly after. Datawise, Euro area retail sales and German factory orders are the main releases of note this morning.
In the US we get Q3 nonfarm productivity and unit labour costs due along with the latest initial jobless claims. It's a big day for Fedspeak also with Dudley and Fischer set to speak at 1.30pm GMT (along with the IMF's Lagarde), followed by Lockhart at 6.30pm GMT. Former Fed Chair Bernanke is also scheduled to give the keynote speech at an IMF conference at 9pm GMT tonight. In terms of earnings, we've got 24 S&P 500 companies set to report their latest quarterly numbers including Kraft Heinz and Walt Disney. In the Stoxx 600 we've got 32 companies scheduled to report including Astra Zeneca and Deutsche Telekom.
Top News:
Fed's Most Powerful Trio Keep Dec. Rate Rise on the Table: Speaking in New York hours after Yellen's House testimony, Dudley said he agreed with the chair, but "let's see what the data shows."
Whole Foods Plunges as Flagging Sales Renew Growth Concerns: Same-store sales fell 0.2% in 4Q, representing worst performance in more than 5 years.
Facebook Sales Top Estimates, Fueled by Mobile Advertising: Social network now has 1.01b daily visitors; monthly users jumped 14% percent to 1.55b.
Autodesk CEO Blasts Activist Investors After Sachem Head's Move: Comments about focus only on short-term results come after activist reveals 5.7% stake.
Credit Agricole Plunges on Lower Trading, Consumer Bank Sales: Shares down most since Aug. after lender reported decline in profit at its investment bank, also decline in consumer-banking revenue at the French LCL branch network.
Jet.com Said to Near Funds Valuing Amazon Rival at $1.5b: Co. close to raising $500m-$550m in funding round led by Fidelity Investments, according to person familiar.
Jana Partners Exits Valeant, Takes Microsoft, Baxter Stakes: Jana established position in Valeant in 4Q 2014 and owned 1.3m shares at end of June.
Tech, Banking, Farming Among U.S. Winners in Pacific Trade Deal: U.S. Releases text of Trans-Pacific Partnership accord
Bomb-Plot Suspicion Becomes Top Theory in Crash of Egypt Jet: Preliminary evidence suggested Islamic State involvement, investigators examining prospect that someone was bribed to get bomb on board.
Musk's SpaceX Finds Crowd for $3.5 Billion NASA Contract: Co. in four-way derby with Boeing, Orbital ATK, Sierra Nevada, each of which relies to some extent on rockets with Russian engines.
China Stocks Enter Bull Market as State Stimulus Reverses Rout: Shanghai Composite climbed 1.8% to 3,522.82 at close, taking its advance from its Aug. 26 low to >20%. China Signals Reserve Ratios May Be Used to Discipline Banks: Officials want to control competition after freeing up rates.
Bulletin Headline Summary from Bloomberg and RanSquawk
Stocks in Europe have been fairly mixed with defensive sectors outperforming ahead of key risk events later today, while Shanghai Composite has now gained over 20% from August lows
EUR saw initial softness after the unexpected fall in German factory orders (M/M -1.70% vs. Exp. 1.00%), however EUR has since recovered and trades little changed against both GBP and USD
Today's highlights include BoE's 'Super Thursday, US challenger job cuts, weekly jobs data and EIA Natgas storage change, as well as comments from ECB's Draghi, Fed's Harker, Dudley, Evans, Tarullo and Lockhart
Treasuries little changed, 2Y yields highest since 2011 as markets prepare for October payrolls report tomorrow; Yellen yesterday said a rate hike next month was a "live possibility."
Also yesterday: NY Fed's William Dudley both said the Fed could boost interest rates as soon as next month, while Vice Chairman Stanley Fischer voiced confidence that inflation isn't too far below the central bank's goal
The European Commission cut its euro-area growth and inflation outlook for next year, citing more challenging global conditions and fading impetus from lower oil prices and a weaker euro
Germany's expanding refugee population should lift the nation's economy by boosting spending in the short term and expanding the labor market in the years ahead, the EC said
EC President Jean-Claude Juncker, whose appointment Great Britain's David Cameron sought to block, has handed the U.K. PM ammunition to use against his opponents as the British government prepares to submit its wish-list of EU reforms as early as next week
China's stocks rose, with the benchmark index entering a bull market, after an unprecedented state rescue effort halted a $5t crash and ordinary investors returned to the market
$5.6b IG priced yesterday, $1.2b HY priced yesterday. BofAML Corporate Master Index OAS narrows 1bp to +163, YTD range 180/129. High Yield Master II OAS narrows 4bp to +573, YTD range 683/438
Sovereign 10Y bond yields mostly lower. Asian stocks mostly lower, European stocks gain; U.S. equity-index futures rise. Crude oil and gold little changed, copper falls
Key US Events
7:30am: Challenger Job Cuts y/y, Oct. (prior 93.2%)
8:30am: Initial Jobless Claims, Oct. 31, est. 262k (prior 260k)

Continuing Claims, Oct. 24, est. 2.140m (prior 2.144m)

8:30am: Non-farm Productivity, 3Q P, est. -0.3% (prior 3.3%)

Unit Labor Costs, 3Q P, est. 2.5% (prior -1.4%)

9:45am: Bloomberg Consumer Comfort, Nov. 1 (prior 42.8)
Speakers:
7:00am: Bank of England bank rate, est. 0.50% (prior 0.50%)
7:45am: BOE's Carney holds news conference
8:30am: Fed's Harker speaks in Philadelphia
8:30am: Fed's Dudley and Fischer and IMF's Lagarde speak in New York
12:45pm: Fed's Tarullo speaks in Chicago
1:30pm: Fed's Lockhart speaks in Bern, Switzerland
7:30pm: Reserve Bank of Australia issues monetary policy statement
11:00pm: Bank of Japan's Kuroda speaks in Tokyo
DB's Jim Reid completes the overnight wrap
Central bankers continue to shake and stir markets at the moment. Yesterday it was Yellen's turn again after her hawkish remarks sent 2-year US yields to their highest since April 2011, the Dollar up +0.82%, commodities lower (WTI -3.30%) and the probability of a rate hike next month to 58% from 50% the day before. It's clear that the committee want to give themselves every chance of being able to hike in December which means they have to try to get the probability of such an event higher. Obviously if this has a detrimental impact on global assets the probabilities will drop again and the Fed are less likely to go. So the dance starts again.
Some strong-ish data reinforced those themes yesterday. The ADP employment change report for October came in pretty much as expected at 182k (vs. 180k) firming expectations for a similar number at Friday's payrolls. The ISM non-manufacturing print for last month rose 2.2pts to a solid 59.1 (vs. 56.5 expected), with the employment subcomponent in particular (59.2 vs. 58.3) up again and back near its July post-recession high. Interestingly the spread between the employment components in the two ISM's (manufacturing and non-manufacturing) is now at the second largest on record. Meanwhile the final October services PMI was revised up 0.4pts to 54.8 leaving it just shy of the September reading, while the composite nudged up half a point to 55 which matches September. Finally the September trade deficit reading of $40.8bn more or less matched expectations, reaching a seven-month low on lower fuel imports. Yesterday's data saw the Atlanta Fed revise their Q4 GDP forecast once again, upgrading it back up to 2.3% from 1.9% on Tuesday.
Back to Yellen quickly and her comments yesterday in front of Congress. Of significance, the Fed Chair said that 'at the moment what we see is a domestic economy that is pretty strong and growing at a solid pace, offset by some weakening spilling over to us from the global economy'. She went on to say that 'what the committee has been expecting is that the economy will continue to grow at a pace that is sufficient to generate further improvements in the labour market and to return inflation to our 2% target over the medium term'. Reinforcing the hawkish tone from the FOMC, this led Yellen to suggest that 'if the incoming information supports that expectation then our statement indicates that December would be a live possibility'.
Those comments were then backed up at the end of the US session by NY Fed President Dudley who said that he fully agrees with the view of Yellen that December is a live possibility, but also wanted to 'see what the data shows' and that he would 'probably want to see a little bit more in terms of wage inflation'. Earlier in the day Fed Governor Brainard had said that the domestic outlook is encouraging, while on inflation noted that survey measures of expectations have been reassuring for the most part but that some market-based measures have dipped lower.
Yellen's comments saw risk assets end their strong start to the week yesterday. The S&P 500 retreated -0.35% as energy stocks were hit hard (Oil also under pressure following the latest US inventory numbers) while the Dow was -0.28%. US credit indices widened with CDX IG out a couple of basis points by the end of the session although it didn't stop nearly $6bn of new issues pricing.
Despite that weaker showing for risk assets last night, the news this morning is of a strong session for Chinese equities with the Shanghai Comp (+2.81%) technically entering a bull market having now risen over 20% from the August 26th lows. The CSI 300 is up over 3% despite there appearing to be little in the way of new news out. Markets in Japan have seen reasonable gains also with the Nikkei and Topix +1.01% and +0.95% respectively, while the Hang Seng is +0.10%. Elsewhere in Asia, markets are generally following the US lead with bourses in Taiwan, Korea, Australia and Indonesia all moderately lower as we go to print. US equity futures are more or less unchanged while credit indices in Asia are generally a basis point wider.
It was a bit more of a mixed session in Europe yesterday. The Stoxx 600 closed +0.51% along with modest gains for the CAC (+0.25%) and IBEX (+0.08%) although it was a much weaker day for German equities as the DAX tumbled -0.97% having being dragged down by a 10% fall for VW following the latest fallout in the scandal regarding the internal probe and CO2 emissions in petrol vehicles which we touched upon yesterday.
There was better news in yesterday's October PMI numbers out of Europe however. The final Euro area services reading was revised down a modest 0.1pts to 54.1, which saw the composite PMI at 53.9 (flash 54.0, September 53.6) remaining resilient. Germany saw a slight negative surprise in its final composite reading (-0.3pts to 54.2) although was still up relative to September. Moderate gains were seen for France (+0.3pts to 52.6), Italy (+0.5pts to 53.9) and Spain (+0.4pts to 55.0). Our colleagues in Europe noted that the solid October survey data point to resilient Euro area growth and that the PMI's are in line with +0.4% qoq Euro area growth. They also point out that if we see no change for the rest of 2015, then this represents a slight upside to their +0.3% qoq Q4 call, which is down to their more cautious view on Germany.
Meanwhile, there was some chatter out of the ECB yesterday too with Governing Council member Smets saying that inflation is too low following an interview with German press Handelsblatt. Smets said that 'even if this low inflation is related mainly to falling oil prices, there is a danger that it will have a negative impact on inflation expectations and they could lose their anchoring'. Echoing Draghi's comments, Smets went on to say that 'as central bankers, it is our job to be concerned' and that 'we will re-evaluate the situation at our next council meeting'.
Yesterday saw 25 S&P 500 report their latest quarterly numbers, the highlight being a better than expected Q3 report from Facebook (beating revenue and earnings expectations) which sent shares up into the close. Time Warner was also out with their latest Q3 report which, while coming in ahead of expectations, saw management downgrade 2016 guidance which resulted in the share price collapsing nearly 7%. All told 18 (72%) companies beat earnings expectations yesterday and 15 (60%) notched a beat at the sales line. The latter was much better than the overall trend so far and helped to lift revenue beats now to 45% from 44% this time yesterday, while earnings beats have held steady at 73%. Meanwhile in Europe we've seen 257 Stoxx 600 companies report and the trend continues to remain weak with just 49% beating earnings expectations and 46% beating sales expectations.
Moving onto the day ahead, the main focus in the European session today will be the UK's BoE meeting which will see the latest inflation report released, the meeting minutes and also comments from the BoE's Carney shortly after. Datawise, Euro area retail sales and German factory orders are the main releases of note this morning. Across the pond this afternoon we've got the Q3 nonfarm productivity and unit labour costs due along with the latest initial jobless claims. It's a big day for Fedspeak also with Dudley and Fischer set to speak at 1.30pm GMT (along with the IMF's Lagarde), followed by Lockhart at 6.30pm GMT. Former Fed Chair Bernanke is also scheduled to give the keynote speech at an IMF conference at 9pm GMT tonight. In terms of earnings, we've got 24 S&P 500 companies set to report their latest quarterly numbers including Kraft Heinz and Walt Disney. In the Stoxx 600 we've got 32 companies scheduled to report including Astra Zeneca and Deutsche Telekom.