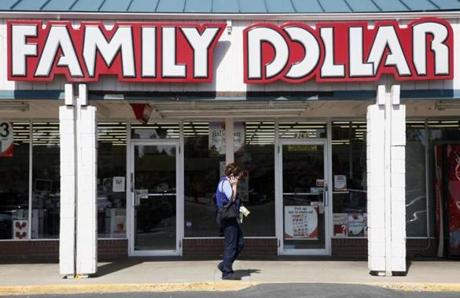 In the latest twist in the dollar store consolidation, Dollar General (DG) has made a competing bid of $9.7 billion for Family Dollar (FDO).  This comes after Dollar Tree (DLTR) made a bid for FDO on July 28th.  
DG's offer is for $78.50 a share in cash, upping the ante on DLTR's $74.50 per share offer.  If this DG buyout of FDO was to go through, the combined company would have 20,000 stores in 46 states, with sales around $28 billion.
Dollar General Chairman and CEO Rick Dreiling wrote, "Our proposal provides Family Dollar's shareholders with approximately $466 million of additional aggregate value over Dollar Tree's offer and represents a premium of 29.4 percent over the closing price of $60.66 for Family Dollar stock on the day prior to the Dollar Tree announcement."
DG CEO Dreiling went on to address the possible antitrust questions in the statement by saying, "Dollar General has undertaken significant economic and antitrust analysis with respect to the transaction and is confident it can quickly and effectively address any potential antitrust issues.  Dollar General is prepared to commit to divest up to 700 retail stores in order to achieve the requisite approvals."
This may not be the last we hear of this deal as Dollar Tree may submit another bid.  Family Dollar stock is currently trading around $79.45.