TubeMogul provides the software solution for Enterprise clients in order to manage the marketing campaigns and advertising activities. The company's stock lost almost 50% over the last 10 months and more than 12% over the last week (-2.5% today). It seems that the stock price is rapidly going to the bottom line. 
<!== INSTRUMENT %% %1440% ==!>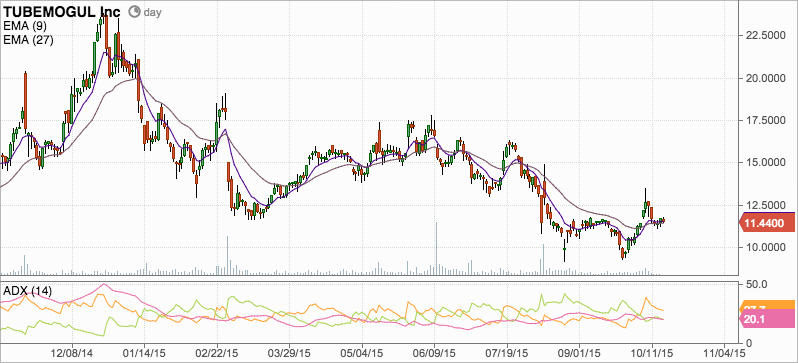 TubeMogul is another company from digital advertising field, the company developed the software for Enterprise clients. 
Key highlights about the company's performance over the last several years:
TubeMogul is in trend of self-service software for companies, especially in advertising field. The revenue of self-service platform grew up from $2M in 2011 to $49M in 2014. 
Profit margin is dropping down: as of June 2014 the company had 26% in profit margin (revenue / advertising spend), while as of June 2015 it was already 24%. I assume the company will continue to decrease the profit margin. However, we are talking just about the self-service platform, that has a good in terms of business margins.
R&D and Sales and marketing expenses grew up. Product development expenses increase from 17% of revenue as of June 2014 to 24% as of June 2015. Sales and marketing - from 31.95% as of June 2014 to 32.48% as of June 2015. I think that the company will keep this trend and increase its operating expenses this year.
Advertising technologies market is very competitive and I think that the market will be divided among the niche players in different types of advertising, such as video, native etc. However, if TubeMogul can expand the platform usage (I suppose they are doing this, costs are growing rapidly), than it can compete with others.