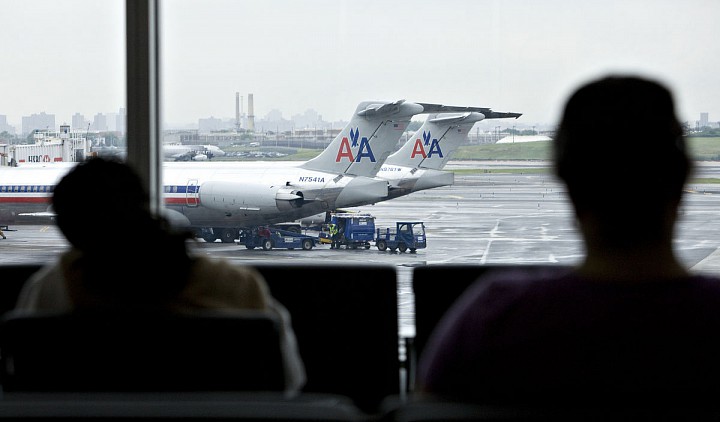 American Airlines parent AMR Corp. filed for bankruptcy after failing to secure cost-cutting labor agreements and sitting out a round of mergers that dropped it from the world's largest airline to No. 3 in the U.S.
With the filing, American became the last of the so-called U.S. legacy airlines to seek court protection from creditors. The Fort Worth, Texas-based company, which traces its roots to 1920s air-mail operations in the Midwest, listed $24.7 billion in assets and $29.6 billion in debt in Chapter 11 papers filed yesterday in U.S. Bankruptcy Court in Manhattan.
"It's painful but probably necessary," John Strickland, an aviation analyst at JLS Consulting in London, said in a telephone interview. "They will have to go through the whole process that their peers have gone through."
Job and flight reductions are likely in the future as AMR seeks to trim expenses and leave bankruptcy in less than 15 months, Chairman and Chief Executive Officer Tom Horton said yesterday. Normal flight schedules will continue on American and its American Eagle regional unit for now, along with the airline's frequent-flier program, the company said. A spinoff of American Eagle, which already had been delayed from this year into 2012, is on hold, Horton said.
Court Hearing
American's cost structure compared with other airlines had become "untenable," said Harvey Miller, the company's bankruptcy lawyer, at a court hearing yesterday in Manhattan. The airline "fought ferociously" to avoid filing for bankruptcy, and now planned to use the court process to turn around its business to become a profitable global airline, Miller said.
At the hearing, U.S. Bankruptcy Judge Sean Lane approved American's requests to pay employees, continue its customer programs, and pay what the company said are vendors that are critical to maintaining its operations.
American said in court papers that it needed permission to pay $50 million in claims from critical vendors. Miller said the company will later request approval to pay an additional $35 million in claims.
"We are talking about an emergency and the survival of this company," Miller said about the request. "We have to operate this airline and assure customers that when they book on American, that flight is going to be there and that flight is going to depart on time."
Arpey Retires
Horton, 50, most recently AMR's president, replaced Gerard Arpey yesterday as chairman and CEO. Arpey, 53, opted to retire after the board asked him to stay, Horton said. Arpey will join Emerald Creek Group LLC, a private-equity firm founded by former Continental Airlines Inc. CEO Larry Kellner, on Dec. 1, the firm said in a statement.
Arpey supported the bankruptcy filing, Horton said. Arpey decided to leave after concluding that AMR would be better served with new leadership "because it was going in a different direction," Tom Roberts, an attorney at Weil, Gotshal & Manges LLP who represents AMR, said in a telephone interview. "It was his decision because he had been the one that had been leading the charge for so many years to avoid bankruptcy."
AMR doesn't plan to seek so-called debtor-in-possession financing to fund operations during bankruptcy, Horton said at a news conference at Dallas/Fort Worth International Airport.
AMR's board voted unanimously Monday night to file for bankruptcy after considering options for months, Horton said. AMR was determined to avoid Chapter 11 as air travel fell and losses mounted after the 2001 terrorist attacks, even as peers used bankruptcy to shed costly pension and retiree benefit plans and restructure debt. Rival carriers later combined, giving them larger route networks that were more attractive to lucrative corporate travel customers.
'Untenable' Gap
"It became increasingly clear that the cost gap between us and our biggest competitors was untenable," Horton said on a conference...
More