With the stock market having lost 10% of its value since late May, a lot of investors out there are probably pondering selling right now, fearing an even bigger drop to come. However, for investors still many years away from actually needing the proceeds of their investments, chances are holding tight is the better long-term decision.
With selling on so many people's minds right now, we asked three of our regular contributors to tell us about a stock that they would never sell. Our contributors gave us Cummins (NYSE:CMI), The Boeing Company (NYSE:BA), and growth superstar SolarCity (NASDAQ:SCTY) -- three companies that all share great leadership, dominant industry positions, and strong competitive advantages.
Let's take a closer look at these three stocks and why our contributors called them "never sell" companies.
Neha Chamaria: I'd look for four qualities in a "buy and hold forever" company: timeless product, innovative leadership, competitive advantage, and strong fundamentals. Cummins measures up.
As a global leader in the design and manufacture of diesel engines and related technologies like fuel systems, emission solutions, and filtration, Cummins enjoys a solid competitive advantage in its industry. Aside from trucks and buses, Cummins engines are found in nearly every off-highway market including construction, agriculture, rail, mining, marine, oil and gas, and power generation. Cummins engines have made their way into 190 countries today.
That's not all. Cummins has a solid presence in the natural gas-engine market through its long-standing partnership with Westport Innovations, which makes it one of the biggest potential beneficiaries as the adoption of the alternative fuel gathers steam.
When it comes to fundamentals, Cummins leaves no room for complaints: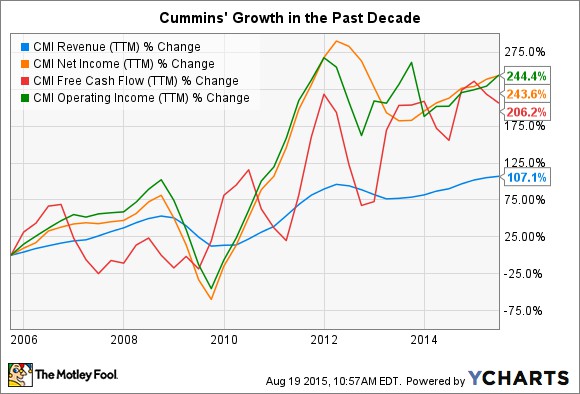 Thanks to the company's solid growth in its top and bottom lines and free cash flows over the years, shareholders have been richly rewarded. Cummins' quarterly dividend has grown more than five times since 2010, and it has committed to returning 50% of...
More