Markit's US Services PMI printed a healthy 56.1 for August, rising for the 2nd consecutive month, comfortably beating expectations and giving The Fed more ammo for a September hike. This rise was achieved despite the weakest rise in new work in 3 months. While Markit notes that this headline print suggest 'everything is awesome' it suggests the need for more stimulus just in case, as prices are falling. Following the dramatic spike in the July ISM Services to 10 year highs, it dropped back modestly, thanks to slide in New Orders, with an August print of 59.0 - still the highest since Nov 2005, again offering no excuse for The Fed to stay on hold.
ISM Services hover near 10 year highs..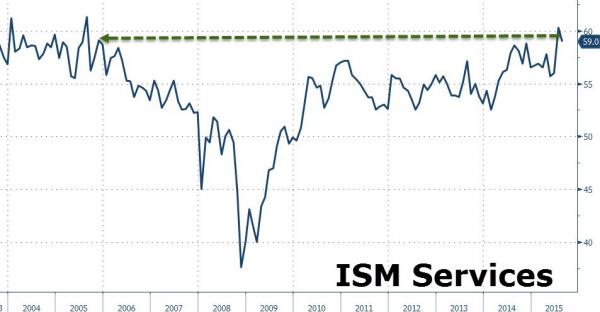 New Orders slipped however...
And the breakdown shows most of tyhe sub components slowing...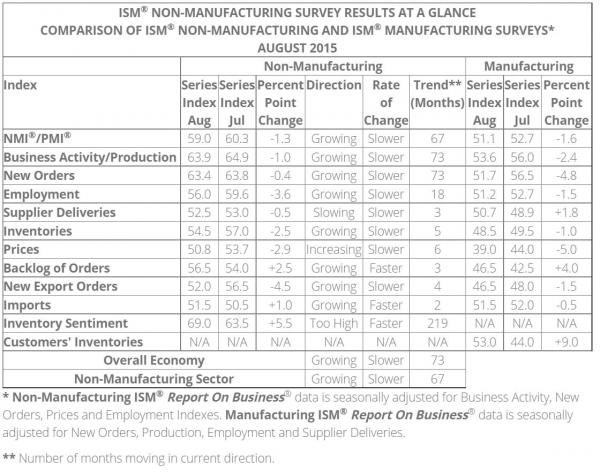 And US Services PMI rose for the 2nd month in a row...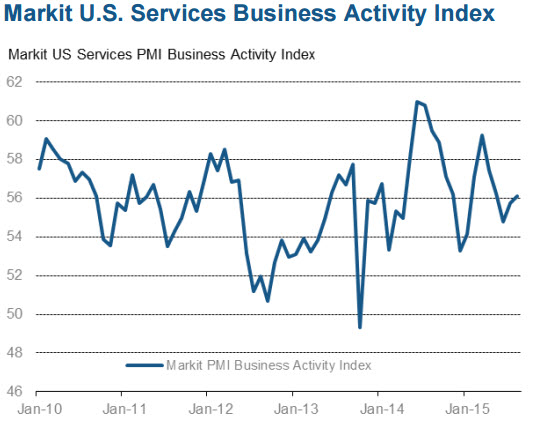 As Markit notes,
"The US economy is enjoying a solid third quarter, with robust survey readings so far pointing to 2.5% annualised GDP growth. Employment growth is also holding up well, with PMI surveys signalling another month of non-farm payroll growth in excess of 200,000 in August.
Roughly translated means - The Fed has no excuse NOT to hike rates. But...
with the survey data showing average selling prices for goods and services to have fallen in August for the first time since 2010 and global economic concerns intensifying, the balance could easily tip towards the need for more stimulus."
So - in other words - everything is awesome but please add some more stimulus anyway!!
Charts: Bloomberg