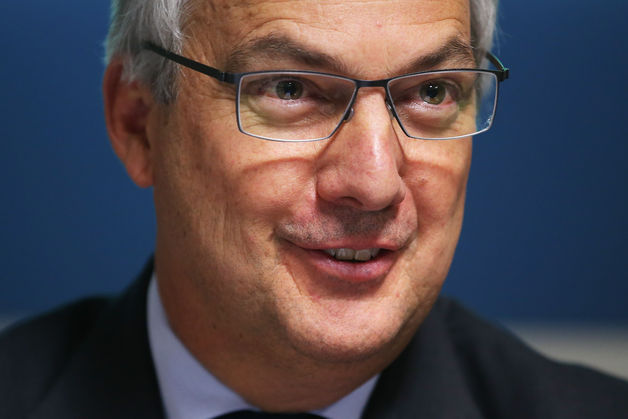 Photographer: Brendon Thorne/Bloomberg
Nicholas Moore, Chief Executive Officer and Managing Director of Macquarie Group Ltd.
Macquarie Group Ltd. (MQG),Australia's largest investment bank, expects first-half net income to climb as much as 30 percent from a year earlier on increased fees from its funds business.
The forecast indicates the Sydney-based company may postnet income as high as A$651.3 million ($587 million) for the six months to Sept. 30, based on a Bloomberg calculation. That compares with the meanestimate of A$627.5 million of two analysts compiled by Bloomberg. Macquarie's second-half result will be "moderately" higher than the first six months, the bank said in a regulatory filing today.
Macquarie's funds business is a focus area for the bank as Chief Executive Officer Nicholas Mooreturns to less volatile businesses to offset the cyclical nature of investment banking and trading. Macquarie Funds Group, which managed more than A$400 billion as of June 30, is the biggest contributor to the bank's profits, according to the filing.
"It is still early days and they usually are cautious about talking up their results," said Angus Gluskie, who oversees about $550 million including Macquarie shares as managing director of White Funds Management in Sydney. "Market conditions are still positive for Macquarie."
Macquarie shares climbed 1 percent at A$58.54 at 2:30 p.m in Sydney. They rose 1.9 percent earlier today, the biggest intraday advance since May 5. The benchmark S&P/ASX 200 (AS51)Index dropped 0.8 percent.
Higher Profit
The bank expects net income for the 12 months to March 31 to be "slightly" higher than the previous year, given the increased contribution anticipated from Macquarie Funds, the company said today.
With some of the division's funds approaching the end of their 10-year lifespan, the products will be unwound and generate performance fees for Macquarie, Credit Suisse Group AG analysts led byJames Ellis wrote in an investor note today. The sale of the funds' underlying assets and return of capital to investors allows Macquarie to charge those fees when performance exceeds previously defined benchmarks.
Those fees for the current fiscal year are forecast to rise to A$225 million, according to the Credit Suisse analysts. That's higher than the A$155 million they had previously forecast and the A$219 million Macquarie reported for the year ended March 31.
Net income for the current fiscal year is expected to be A$1.34 billion, according to the mean estimate of 11 analysts compiled by Bloomberg. Macquarie reported May 2 full-year earnings of A$1.27 billion, the biggest profit since 2008, as trading and fund-management revenue increased.
Advisory Business
Macquarie said July 24 earnings at its trading unit will probably fall this year after markets slowed in the three months to June. It still expects the unit's earnings to drop, according to today's filing.
The bank is also sticking with its previous outlook for earnings at its lending unit and advisory business to rise this year, according to the filing. Profit at Macquarie's fixed income, currencies and commodities business and its leasing division are expected to be broadly in line with the previous year, the company said.