Brand of luxury
Ferrari is a luxury car brand owned by Italian-American car maker Fiat Chrysler Automobiles (90%) and Piero Ferrari, the son of the company's founder (10%). The company exports products to 60 markets, having officially launched on the Indian market in 2011 and on the Israel market in 2012. The total number of cars produced a year is approximately 7 000 as Ferrari's policy aim saving brand uniqueness.
Reflecting company's success
Company's highlights reflect dynamic progress. Gross margin and EBITDA margin grown up 1,07 times while pretax margin climbed up more than 1,21 times (to 15,75). The trend of the pretax profit margin is as important as it provides an indication of company's profitability increase.
Picture 1. Ratios for the first quarter of 2014, 2015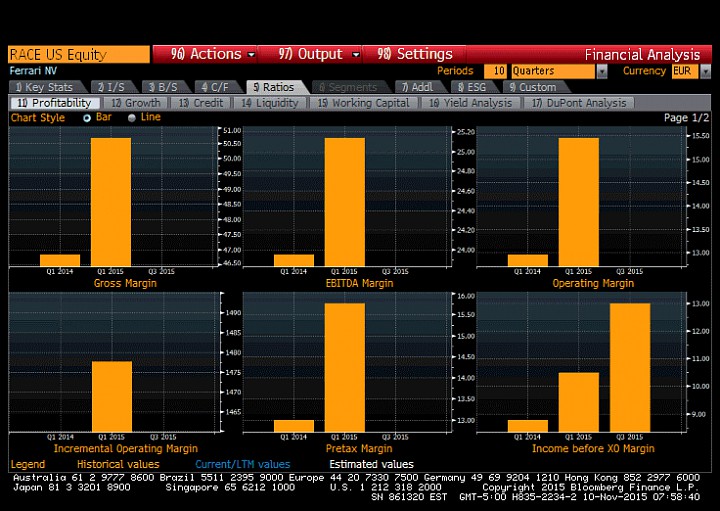 According to Bloomberg
Although Asian market (especially Chinese where rates of growth decreased temporarily) tend to absorb luxury goods, Ferrari's revenue in Asian region declined significantly (for 19 million euro a year). It was fully compensated by the euro/dollar ratio and revenue surge in Northern and Latin Americas (for 47 million euro a year).
IPO
About a month ago, on 20.10.2015, Ferrari NV raised $893 million in its U.S. initial public offering, pricing the shares at the top market level (52$ each) as the investors demand outstripped the stocks available.
Picture 2. Ferrari's shares price after IPO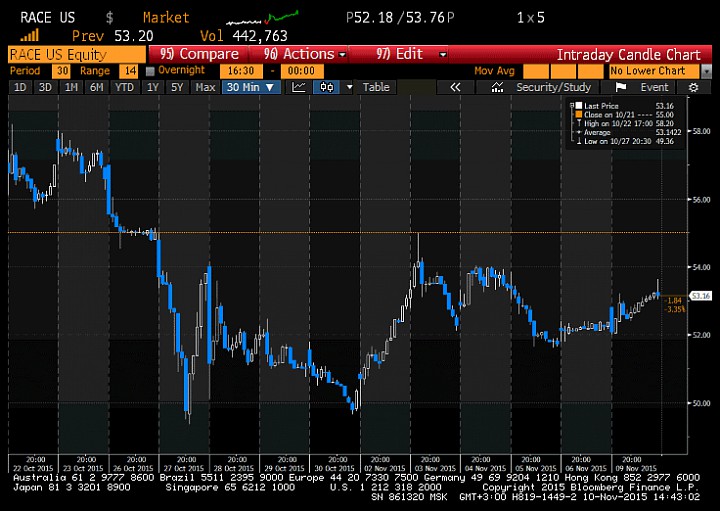 According to Bloomberg
Shares price seem to be stable enough: min 49,36$ - max 60,95$ for the last three weeks. Since 30 of October the price grows steadily (price for today - 53,2 is higher than IPO price). P/E ratio of the company is 34,01 in comparison with 14,91 for industry and 24,45 for sector. High P/E level suggests that investors are expecting higher earnings growth in the future that reveals bright perspectives for the company.
Fiat Chrysler surge sharply after announcing plan to spin off Ferrari. Concern shares nearly doubled in past year beating General Motors and Volkswagen. Especially contrasting it sounds according to the roughly 40 % plunge of the Volkswagen preferred shares because of diesel-emissions scandal in the past month.
Picture 3. FCA shares price (2014-2015)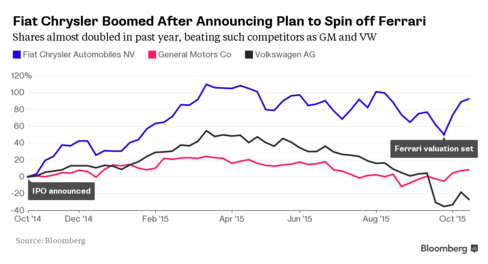 Competitors
It is important to say that being luxury car with a limited quantity of any model Ferrari aims to attract not just rich consumers but those who wish to have a quality together with brand. That is why it may be difficult to compare it with really expensive but mass produced cars.
According to the ROE and share price Ferrari has nearly the same figures as its nearest competitor according to capitalization level (Ferrari – 10,05B, Porsche – 13,15).EBITDA / Interest ratio shows up Ferrari's enough interest coverage to pay off interest expenses while Porsche doesn't (-14,2%)
Table 1. Comparative analysis.
Company
Indicator, USD
Capitalisation, B
ROE, %
Share price
Total dept/ Book Cap, %
EBITDA / Interest
Ferrari
10,05
10,98
53,2
17,07
71,18
Porsche
13,15
9,78
42,92
1,01
-14,2
Audi
30,68
22,58
713,08
26,97
130,72
According to Bloomberg
Risks for investors
1.Limited volume strategy. Nowadays more and more brands namely Audi, Porsche, Maserati improve their high quality and excellent-looking models that become more affordable according to the price-quantity relation. This fact increase the number of competitors while Ferrari is preferable for its exclusivity.
2.Ferrari is highly dependent of the Formula 1 results as it is used to promote the brand. As they have lost several races it is more difficult for them now to improve their reputation. It made them decide increasing number of cars worth producing next year, from 7000 to 9000. The next two races (in Brazil and Abu-Dhabi) results are significant for their shares valuation.
3.After IPO Fiat Chrysler may be interested more in their company development than Ferrari promotion. As it is necessary to spend a great deal of money to support brand and win championships.
Recommendation
Despite some risks long history and financial stability of a company, diversification of consumer markets, stable growth of such indicators as gross margin, EBITDA and others, perfect IPO results make Ferrari worth investing. However, it will be better to wait for the next races results.