Last time we took a good look at the
USD/JPY, it had
its first day in which it broke its long-term downward sloping trendline
in the daily timeframe. At that time we asked, with the break of the wedge pattern in the daily, will the upmove have follow through?
Well, since that trendline break, we had a slow but steady uptrend during most of last week, which was interrupted by USD weakness on account of Friday's NFP report.
However, the bulls regained their composure over the weekend, and since then pair has been climbing again. The fundamental factors include risk appetite as tensions over Syria cool, world economic data is getting better, mini-tapering seems to be priced in. I already
looked at the S&P500 index today
, and there was certainly a risk-on push.
Here's some technical points on the
USD/JPY in the 1-hour time-frame: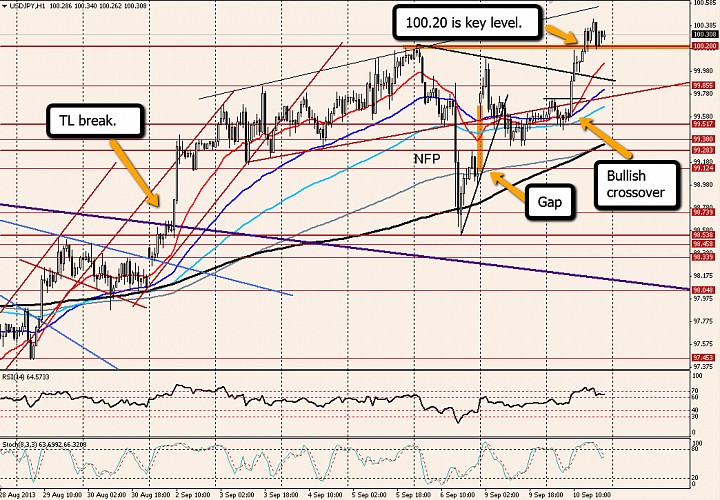 Following the weekend, the pair gapped higher following the open (a bullish sign).
The retrace did not manage to close the gap fully.
The pair has managed to stay above the 200-DMA (maintaining its general bullish posture).
Overnight, the medium term MA's showed a bullish crossover.
There was a break of the horizontal resistance at 100.20, and the million dollar question is whether it can hold as support here. Is there any more juice for a follow-through to the recent break?

If it does we may be looking at another leg higher (which would help the other JPY crosses as well). 
However, a break below 100.20, could mean that the pair has run out of steam and that a sharper retrace is needed before the pair can accelerate.

For upside targets, let me reproduce the same levels I had when
we originally looked at this break-out
(now with most recent candles):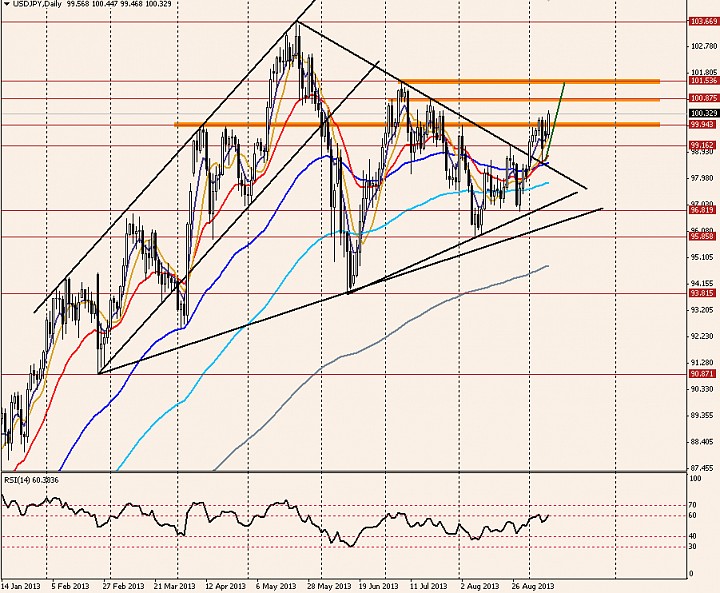 - Nick