The EUR/AUD is at a critical level from a long-term technical view. Take a look at the weekly chart.

EUR/AUD Weekly Chart 7/25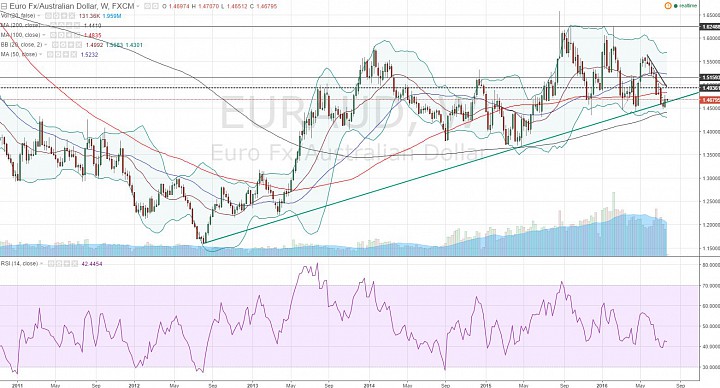 (click to enlarge)
Long-term Bullish; @Critical Support:
Note that the trend since late 2012 has been bullish.
The mode in the past year however has been a choppy consolidation.
Note that as price tested 1.45, it tested a previous consolidation support area AND a rising trendline.
Also note that the RSI is tagging 40. If the long-term bullish momentum is still in play, it should bounce off of 40. A break below 40 on the other hand can signal topping if price also falls below 1.45. 

While the weekly chart shows that EUR/AUD is at a critical level, we might need charts of lower time-frames for entry planning.

EUR/AUD Daily Chart 7/25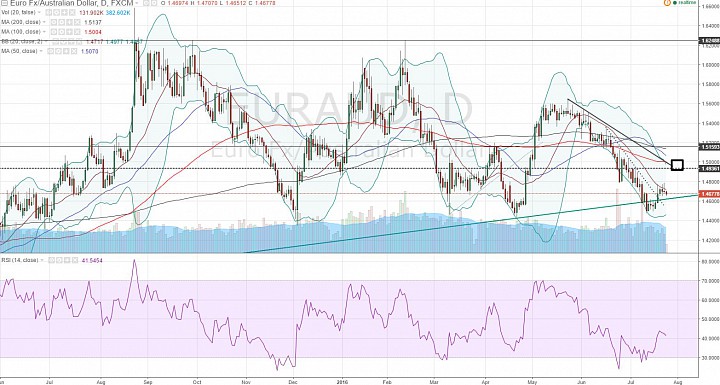 (click to enlarge)
Broken speedline; bullish divergence:
The daily chart show that the run-down since June has stalled. 
Price has also broken above a steep bearish trendline.
There was a bullish divergence between price and the RSI. 
I think the bullish breakout opens up the 1.4930 area. The 1.50 psychological level is also in sight. 

EUR/AUD: 1H Chart 7/25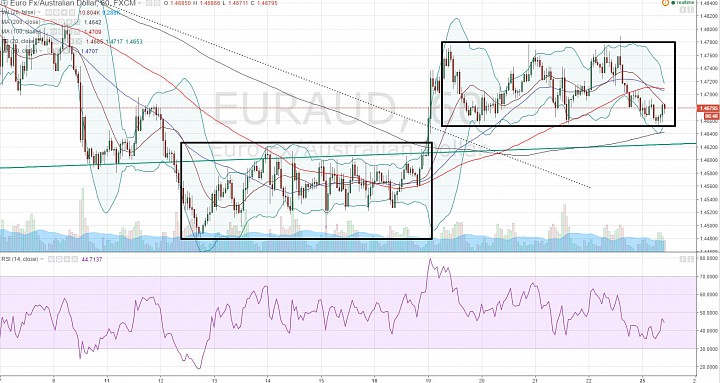 (click to enlarge)

Buying on consolidation support:
The 1H chart breaks down the recent price action into a price bottom and a subsequent consolidation range. 
After finding support twice around 1.4660, I decided to put in a couple of entry orders around 1.4660. 
They averaged a price of 1.4680. With stops at 1.4639 and targets at 1.48 and 1.49, I have a decent reward to risk. 
So far, it seems like there are buyers protecting the 1.4650 area. 
For the 7/25 session, it would be encouraging to see a break back above 1.47-1.4720 area. 

Failure: 
If price instead dips below 1.4650 during the 7/25 session. It means the market is reviving the prevailing bearish bias and putting pressure back towards the 1.45 area.