3D Systems Corporation DDD justreleased its second-quarter 2017 financial results, posting a loss of $0.08 per share and revenues of $159.5 million. Currently, 3D Systems is a Zacks Rank #3 (Hold) and is down 9.70% to $15.36 per share in after-hours trading shortly after its earnings report was released.
3D Systems:
Missed earnings estimates. The company posted a loss of $0.08 per share. Adjusting for stock option expenses, the company's loss was $0.07 per share, which missed the Zacks Consensus Estimate of a profit of $0.06 per share.
Missed revenue estimates. The company saw revenue figures of $159.5 million, missing our consensus estimate of $163 million.
3D Systems' revenue grew 1% year-over-year. The company's GAAP per share loss doubled from $0.04 per share in the year-ago period.
The South Carolina-based company saw demand for its production systems, software, and healthcare solutions increase in the second-quarter. However, lower sales in APAC and less revenue from professional printers offset the greater demand in the other sectors.
3D Systems' gross profit margin fell to 50.6% from 50.9% year-over-year. The company attributed the small drop to cost savings in manufacturing and supply chain improvements.
The company's operating expense jumped from $84.1 million to $87.5 million. Research and development expenses increased 17% year-over-year to $24.4 million.
3D Systems' management revised its full-year 2017 guidance and now expects revenues to grow between 2% and 6%, for a range of $643 million to $671 million. The company projects to post a GAAP earnings per share loss of $0.14 compared to a $0.35 loss last year.
"We are pleased with the growth in production printers, materials, software and healthcare," CEO Vyomesh Joshi said in a statement.
"However, we have work to do in the second half of this year to improve our execution across the company and position ourselves well for long term success and profitable growth in 2018 and beyond… We believe our investments, innovation and improved execution will position us well for the long term and enable us to drive the transition in 3D printing from prototyping to production."
Here's a graph that looks at 3D Systems' Price, Consensus and EPS Surprise history:
3D Systems Corporation Price, Consensus and EPS Surprise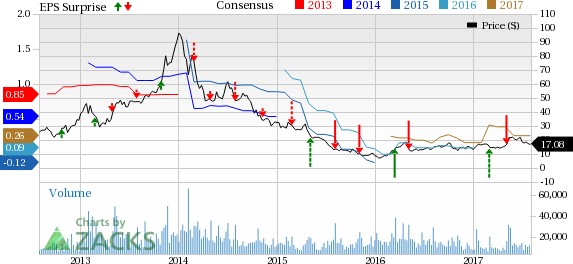 3D Systems Corporation Price, Consensus and EPS Surprise | 3D Systems Corporation Quote
3D Systems Corp. is a leading provider of 3-D Modeling, Rapid Prototyping and Manufacturing solutions. Its systems and materials reduce the time and cost of designing products and facilitate direct and indirect manufacturing by creating actual parts directly from digital input. These solutions are used for design communication and prototyping well as for production of functional end-use parts: Transform your products.
Check back later for our full analysis on 3D Systems' earnings report!
More Stock News: Tech Opportunity Worth $386 Billion in 2017
From driverless cars to artificial intelligence, we've seen an unsurpassed growth of high-tech products in recent months. Yesterday's science-fiction is becoming today's reality. Despite all the innovation, there is a single component no tech company can survive without. Demand for this critical device will reach $387 billion this year alone, and it's likely to grow even faster in the future.
Zacks has released a brand-new Special Report to help you take advantage of this exciting investment opportunity. Most importantly, it reveals 4 stocks with massive profit potential. See these stocks now>>
Want the latest recommendations from Zacks Investment Research? Today, you can download 7 Best Stocks for the Next 30 Days.
Click to get this free report
3D Systems Corporation (DDD): Free Stock Analysis Report
To read this article on Zacks.com click here.
Zacks Investment Research