Chevron is a riskier oil producer due to costlier mega projects that have higher break-even points.
Assuming oil prices recover, Chevron is a marginally better play than ExxonMobil.
However, if oil prices decline, investors stand to lose much more on Chevron.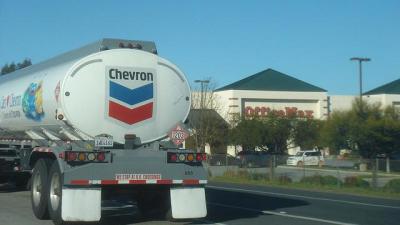 Chevron (NYSE:CVX) is expected to report revenue of $21.43 billion and EPS of -.15 in Q1'16 on April 29th 2016. Much of the weakness in operating results can be owed to lower oil prices. However, the company hasn't executed on significant cost reductions despite the significant drop in revenue. As such, even if Chevron's sales were to recover, the company hasn't restructured its business to be as cost effective coming out of an oil price recovery.
However, depending on the price of oil, Chevron plans to increase its daily production upto 4%, which could be a potential revenue tailwind. However, if oil prices remain deflated, Chevron's added capacity becomes a hindrance to the company's profitability as the break-even point for some of its higher cost projects is roughly $40 to $50 per/barrel.
Despite these near-term challenges to oil prices, the company plans to reduce costs at a more significant pace over FY'16.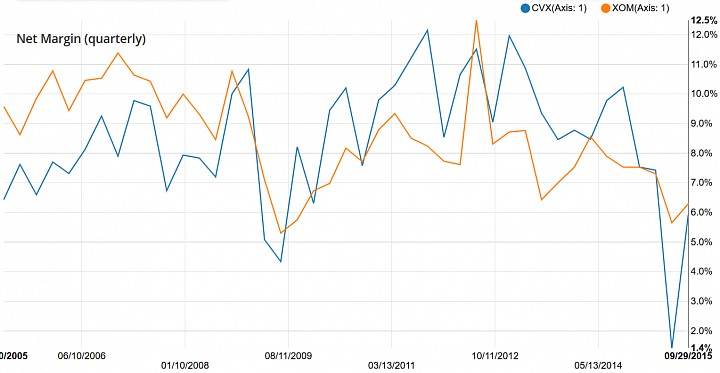 Source: RawCharts
As you can tell, Exxon Mobil (NYSE:XOM) sustained a higher rate of profitability when compared to Chevron over the course of FY'15 as it reduced operating costs by $6.264 billion. I'm also anticipating ExxonMobil to remain more profitable than Chevron even if oil prices were to recover.
Chevron increased its operating expenses by $1.621 billion between FY'15 and FY'14, and only recently reduced operating expenses significantly enough to drive net profit margins to comparable...
More