USD/CAD has been struggling to extend north of 1.10, held at about 1.1050.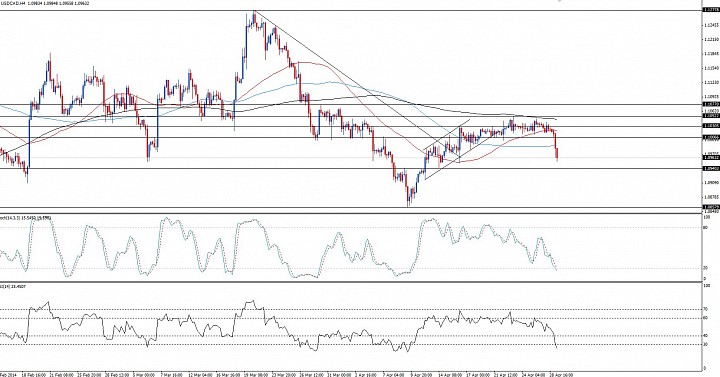 (usdcad 4h chart, 4/29)
Traders during the 4/29 session gave up on the bullish outlook and pulled USD/CAD sharply below 1.10, without any important scheduled fundamental risk.
Pullback:
The 4H chart shows the dip, which has brought oscillators to oversold levels. With an OS look in the 4H chart, traders might find support above the 1.0940 support/resistance pivot. However, if the market has turned bearish, a pullback should probably find resistance at the 1.10 pivot.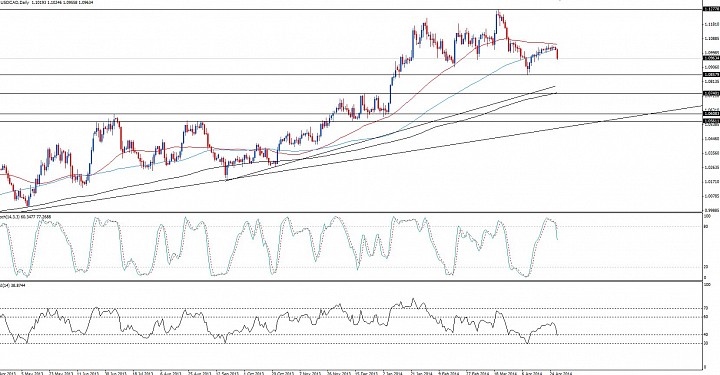 (usdcad daily chart, 4/29
Bearish correction:
In the bigger picture, today's price action is likely adding to the bearish correction scenario. There is first downside risk toward 1.0858, then the 1.0740 pivot. Around 1.0740 there will be support factors: 1) 200-day SMA, 2) a rising support from Sept. 2013.
The Stochastic and RSI levels and action in the daily chart also suggest a completed bullish cycle, suggesting a bearish one ahead in the upcoming week or two.