Will Alcoa's Splitting into 2 Companies Add Shareholder Value?
Alcoa splits
On September 28, Alcoa (AA) announced that it would split into two independent companies. The transaction is expected to be completed in the second half of 2016. Markets reacted well to the news and the stock closed at $9.59—up 5.73% from its previous day's closing.
The chart above shows the recent movement in Alcoa's stock. Together, Alcoa and BHP Billiton (BHP) form ~6.8% of the SPDR S&P Global Natural Resources ETF (GNR).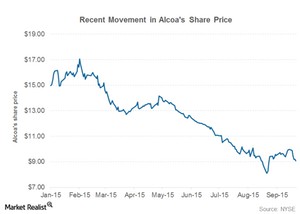 Was it expected?
Investors who have been tracking Alcoa for the last...
More