Rumors of Tesla, Inc. TSLA building a factory in China have surfaced once again. Southern Metropolis Daily, a local Guangdong province newspaper, has claimed (citing sources) that the company plans to independently fund and construct a factory in the region.
Per the report, Tesla has already approved a site for the facility and is awaiting the green signal from the local government. The report also speculated that the project will be announced within a year if the plan proceeds smoothly.
However, the electric vehicle producer has denied the report, as told to CNBC. Tesla reiterated its commitment to the Chinese market, the second largest auto market globally, but stated that the plans outlined per the report are untrue.
Tesla in China
As the report noted, a manufacturing unit in China would help Tesla reduce its border tax. Recently, Chinese tech giant Tencent Holdings Ltd. TCEHY purchased a 5% stake or 8.17 million shares in the company for $1.8 billion, making it the fifth largest shareholder and paving a way for Tesla's further expansion in China. Tencent, also based in Guangdong, stated that the companies currently do not have any cooperative plans but may work together in the future.   
Tesla's market in China is significantly growing. The company saw its annual revenues from the country increase more than three times to over $1.06 billion in 2016, making it second only to revenues from the U.S. China imported 11,839 Tesla vehicles in 2016, five times more than the previous year. It has 24 stores and 348 regular charging stations in the country.
Regulatory Requirements
While rumors of Tesla building a factory in China appear repeatedly, a number of problems may also hinder the company in making this a reality. China has a policy requiring foreign auto manufacturers to set up joint ventures with local companies to produce vehicles. Moreover, the foreign manufacturers cannot own more than 50% in the venture. Therefore, it isn't clear whether the government would approve a plant owned independently by a foreign automaker.
Rumors of a factory being set up by Tesla in partnership with other local companies have surfaced in the past. All of them have been subsequently denied by Tesla.
Performance
Tesla outperformed the Zacks categorized Auto Manufacturers-Domestic industry over the last three months. During the period, Tesla gained 31.6% while the industry witnessed a 0.6% rise. The outperformance has been supported by expansion plans and higher deliveries in first-quarter 2017.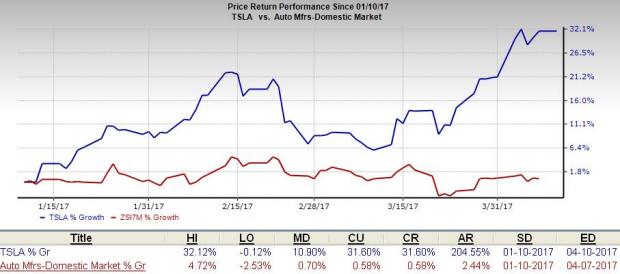 Zacks Rank & Key Picks
Tesla currently carries a Zacks Rank #3 (Hold).
Better-ranked companies in the auto space include American Axle & Manufacturing Holdings, Inc. AXL and Allison Transmission Holdings, Inc. ALSN. Both companies sport a Zacks Rank #1 (Strong Buy). You can see the complete list of today's Zacks #1 Rank stocks here.
American Axle has an expected long-term growth rate of around 8.1%.
Allison Transmission's expected long-term growth rate stands at 11%.
Zacks' Hidden Trades
While we share many recommendations and ideas with the public, certain moves are hidden from everyone but selected members of our portfolio services. Would you like to peek behind the curtain today and view them?
Starting now, for the next month, I invite you to follow all Zacks' private buys and sells in real time from value to momentum...from stocks under $10 to ETF to option movers...from insider trades to companies that are about to report positive earnings surprises (we've called them with 80%+ accuracy). You can even look inside portfolios so exclusive that they are normally closed to new investors. Click here for Zacks' secret trade>>
Want the latest recommendations from Zacks Investment Research? Today, you can download 7 Best Stocks for the Next 30 Days.
Click to get this free report
Tencent Holding Ltd. (TCEHY): Free Stock Analysis Report
Tesla Inc. (TSLA): Free Stock Analysis Report
American Axle & Manufacturing Holdings, Inc. (AXL): Free Stock Analysis Report
Allison Transmission Holdings, Inc. (ALSN): Free Stock Analysis Report
To read this article on Zacks.com click here.