In last week's post on Microsoft (MSFT), I discussed three trends currently facing the business and held a generally optimistic stance on the future of the business as it begins shifting into cloud service offerings. Here I would like to provide my opinions on the value of the business.
Capital Structure
MSFT is in good shape with respect to its debt repayment schedule. The repayments also follow a staggered layout, with 74.8% of the company's debt due after 2021.
I converted the company's operating leases to debt in order to pass them off as interest and depreciation expense, which works better for valuation purposes. This decreases the company's operating income (EBIT) by 5.7% over its current projected 2016 total.
With this reclassification, MSFT is comprised of 13% debt. According to my model where I use interest coverage ratios to determine a synthetic debt rating to forecast the optimal point between the company's cost of debt (i.e., interest burden) and its ability to pay its debt obligations without overly imperiling the equity portion of the capital structure. Based on this analysis, MSFT is optimally levered at approximately 35% debt. Nonetheless, it doesn't advantage MSFT too significantly to lever up to this point, as a debt issuance of this type of magnitude would only project to be 4.3% accretive.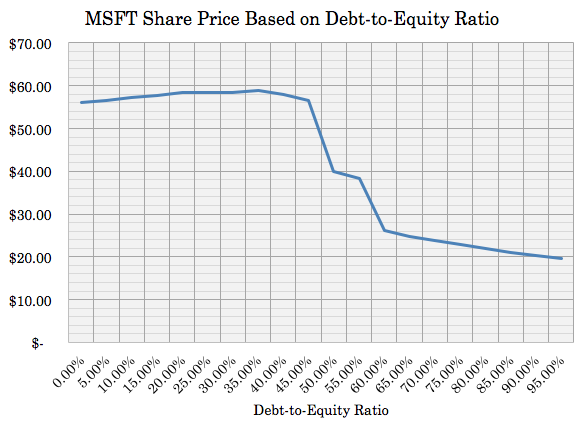 Valuation
I have a revenue growth rate of 6% Y/Y going into 2017, with this rate falling to 3.8% by the FY2026. I believe these are realistic targets given MSFT's venture into cloud services where the addressable market projects to rapidly grow over the next 5+ years
I assume pre-tax margin contraction of 50 bps per year from 32% to 27% in the ten-year projection period. Cloud is a source of robust top-line growth, but it is not a margin-rich business. As MSFT ventures more of its business into the cloud, expect its margins to drop unless it manages to innovate in other areas of the business.
Depreciation and amortization equal to 9.3% of sales, with this set equal to capital expenditures.
Effective tax rate of 22.1%. Most of the deduction is derived from foreign earnings taxed at lower rates (52.4% of revenue is earned outside the U.S.).
This places GAAP EPS around the 1.92 mark for 2016 and projects close to 2% earnings growth over the next ten years. Yet MSFT remains a strong cash generator, close to a 20% unlevered free cash flow margin in 2016, which I project to fall by approximately 40 bps per year.
With a cost of equity range from 7%-10%, we have an overall cost of capital between 6.2%-9.2%. At the median MSFT would be valued at $48 per share, or an overvaluation of 17% relative to its current ~$58 price. The general valuation range at a terminal growth rate, g, of 2% comes to $39-$64 per share.
If we adjust the terminal growth rate by +/- 50 bps, the valuation range comes more generally to $37-$70. At $58 per share, this suggests that MSFT is most likely toward overvaluation territory.