2015 year brings great changes on the beer market:
       - Wave of M&A deals
       - Chinese crisis leaded demand to decrease, population switched to substitutes. Moreover, this situation repeated on other emerging markets.
       -Closure of beer conglomerates factories in Russia
   Certainly, someone will and already has some gains (benefits) from this rumble what means then someone lose. Company, which we can be included in the group of winners, is called "Molson Coors Brewing Company". At first glance, company doesn't participate in major deals but everything turned out to be very positive. Molson Coors operates on almost all of the largest market but it cannot be called and considered as leader on the brewing industry.
   On 2007 Molson Coors both with Miller announced a joint venture which operates on the US market. Exactly this joint venture brings all positive changes for company.  
   16 September, 2015 Anheuser-Busch InBev and SABMiller PLC have announced the intension to merger. That is why Miller's stock raised, both with Molson's stock. 13 October the deal was executed, but Miller had to sell some assets including Chinese and U.S. due to anti-monopolistic politics. For Molson it means, the bid from Miller to buy its controlling stake. Despite, Molson CEO said that deals hasn't been already executed stock raised.
   So, 10 November Molson Coors bought SABMiller's 58 percent stake for $12 billion.
   For sure, this deal lead to some change in Molson operation. The rise in market share will be reason of cash flows growth. In addition, upon receipt of a controlling stake shares, the company gets the right to name their own CEO who will be working directly in the interests of the company.
   All this factors seems to be a significant reason to buy Molson's stock. Investor can get a profit not only from changing in the price but also from future growth.
   Our recommendation: BUY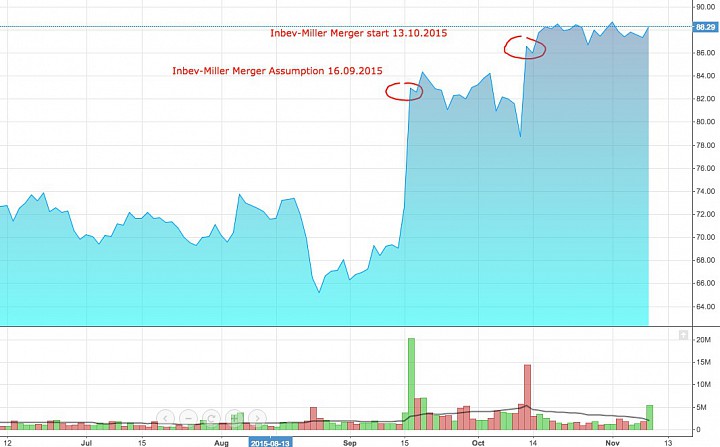 Appendix
   Market expectations are displayed on the chart of call and put options. Most traders believe in the future price of $ 90 (at the current $ 87) with the execution of 20 November. In addition, a small number of traders invested in shares fall.