Almost 50% more Americans believe the US economy is getting worse than are optimistic about the future. Gallup's latest economic survey shows the economic outlook among Americans at its weakest since September 2014.
The economic outlook component averaged -18, as 39% of Americans said the economy is getting better while 57% said it is getting worse.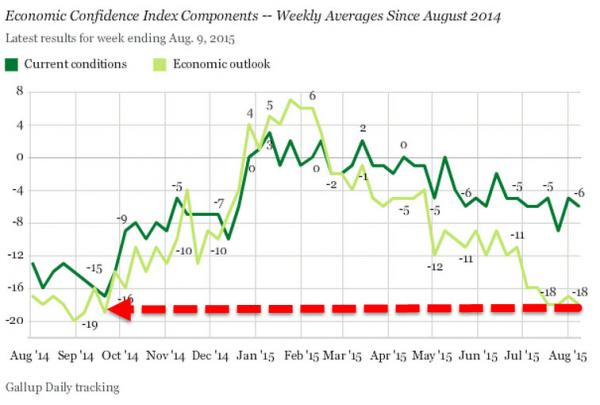 The Economic Confidence Index entered positive territory in late December, for the first time since Daily tracking began in 2008. It dropped below zero in mid-February, and has not been in positive territory since mid-March. The index's rise and subsequent decline has been linked to falling, and then rising, gas prices.
The index has averaged -11 or lower since the week ending July 5, 2015. Lower scores in July were largely attributed to economic events abroad -- including the Greek debt crisis -- and the impact they had on domestic stock prices.

Source: Gallup