October 20, 2015 – Ferrari NV ($RACE) raised $ 893 million in its NYSE initial public offering. It was the most desired IPO since Alibaba Group performance. There is no secret that nowadays IPO does not engage unlisted companies as it was several years ago. Therefore, it is quite important to commend Fiat Chrysler Automobiles (FCA) management that at unfavourable time for automotive industry they determined to list Scuderia Ferrary.
Fiat Chrysler Automobiles is the seventh largest carmaker in the world operates in four regions through companies located in 40 countries and has commercial relationships with customers in approximately 150 countries which produces passenger cars, light commercial vehicles, components and production systems worldwide. In addition, the Group provides retail and dealer finance, leasing and rental services.

The Group's automotive brands are: Alfa Romeo, Chrysler, Dodge, Fiat, Fiat Professional, Jeep, Lancia, Ram, Abarth, Mopar (parts and service), SRT (performance vehicle designation), Ferrari, Maserati, Comau (production systems), Magneti Marelli (components) and Teksid (iron and castings). 

In fact, the company concentrates on the following main areas:
reduction of environmental footprint;
safety and connected vehicles;
increasing product competitiveness.
Therefore € 3.7 billion were invested in 85 research centers and Fiat Chrysler has a leader place in natural gas vehicles in Europe coupled with € 32 million revenues generated through environmental projects.
Chart 3. FCA Q3 2015 Highlights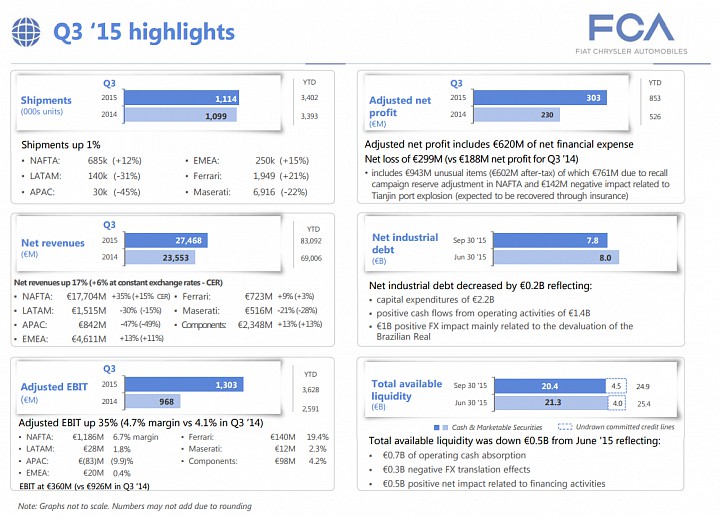 According to the 3rd Quarter Interim Report 2015, the total car sales increased from 1.099 million units for the three months ended September 30, 2014 to 1.114 million for the three months ended September 30, 2015. It was related to the North America and Europe – Middle East car markets growth by 12 % and 15 % respectively and about 50 % significant decline of the Asian market. That is why the net revenue up by 17% in comparison to the previous period which was linked to the previously mentioned facts. In addition, it is important to mention that in September 30, 2015 net industrial debt decreased by € 0.28 billion, that reflecting to the capital expenditures of € 2.2 billion, positive operating activities estimated € 1.4 billion and devaluation of the Brazilian Real. As a result adjusted net profit estimated € 303 million, which is € 73 million more, than in September 2014.
Table 1. FCA Profitability Ratios, Q3 14 and Q3 15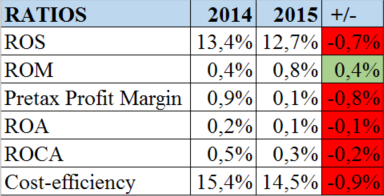 This table shows, according to the reviewed period the return of sales fell from 13.4 % in 2014 to 12.7 % in 2015 and both features are low for the industry despite a long term-production cycle. The main reason for the low ROS is an unsustainable demand in BRICS. ROM analysis shows efficiency of the current activity. In spite of 0.4% growth, this figure is low which gives a reason to think about high production costs but FCA shows a positive economies of scale or, to be more precise: more cars, less costs and ROS growth. That is why the Group has to continue to reduce production costs and increase the production volume. Pretax profit margin estimated 0.1 % that is 0.8 % lower in 2014. It indicates a low profit from the main business. In 2015, the return of assets was 0.12 %, which was related to the ineffective use of current assets estimated 0.3 %. Therefore the cost-efficiency of production declined from 15.4 % to 14.5 % in September 2015. By the way FCA profit, gained by short and long-term investments with high account receivables, covers these costs, but this negative trend could lead to loses. 
Chart 4. FCAU, AUT and RACE Line Chart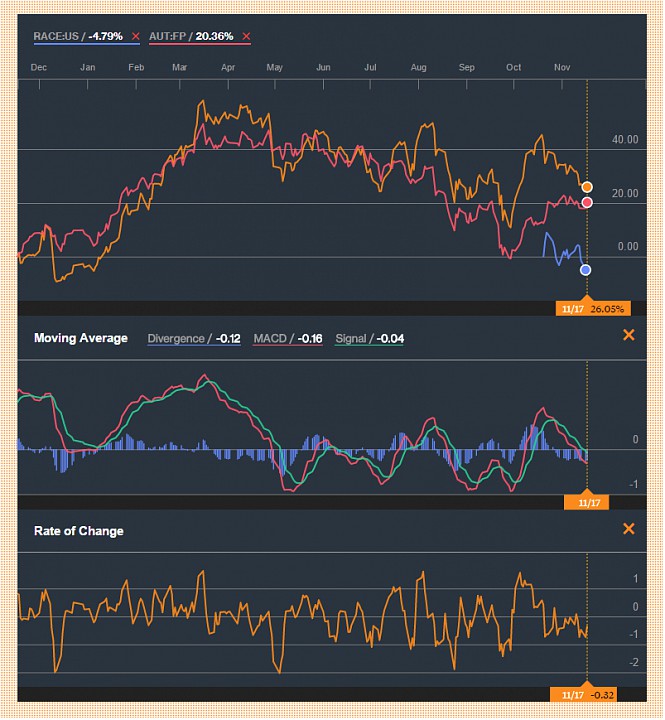 Fiat Chrysler Automotive has a weak correlation with automotive industry index but there is no strange when Ferrari follows the Group stocks' move. Moreover the IPO news has inspired investors to long FCA, but after spin off both carmakers took a downtrend as automotive industry at all.
Chart 5. FCAU Daily Chart
<!== INSTRUMENT %% %1440% ==!>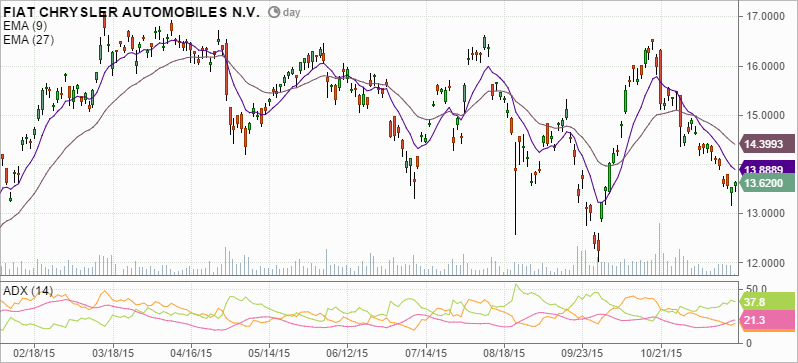 To sum up, the production volume, net profit and EBIT increased whereas liquidity ratios declined in case of long-term investments growth. It is hard to increase FCA profitability under Eurozone zero growth compared with high unemployment. EUR/USD devaluation boosted double output profitability. Moreover the Group failed in its marketing strategy for example in Russia and they did not find new customers. 
These fundamental facts prove a short position for traders and Ferrari-Dodge dependency does not stimulate investor to by FCA stocks.