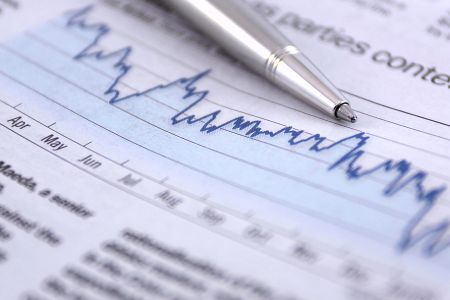 S&P 500 Index has gained in 56% of Augusts over past 50 years, averaging a return of 0.1%.
**NEW** As part of the ongoing process to offer new and up-to-date information regarding seasonal and technical investing, we are adding a section to the daily reports that details the stocks that are entering their period of seasonal strength, based on average historical start dates.   Stocks highlighted are for information purposes only and should not be considered as advice to purchase or to sell mentioned securities.   As always, the use of technical and fundamental analysis is encouraged in order to fine tune entry and exit points to average seasonal trends.
Stocks Entering Period of Seasonal Strength Today:
No stocks identified for today
The Markets
Stocks closed out the month of July fairly mixed as investors focussed on headlines coming out of Washington.  The Dow Jones Industrial Average added three-tenths of one percent to close at a new all-time high, while the S&P 500 Index shed almost a tenth of a percent, hugging the flatline through much of the day.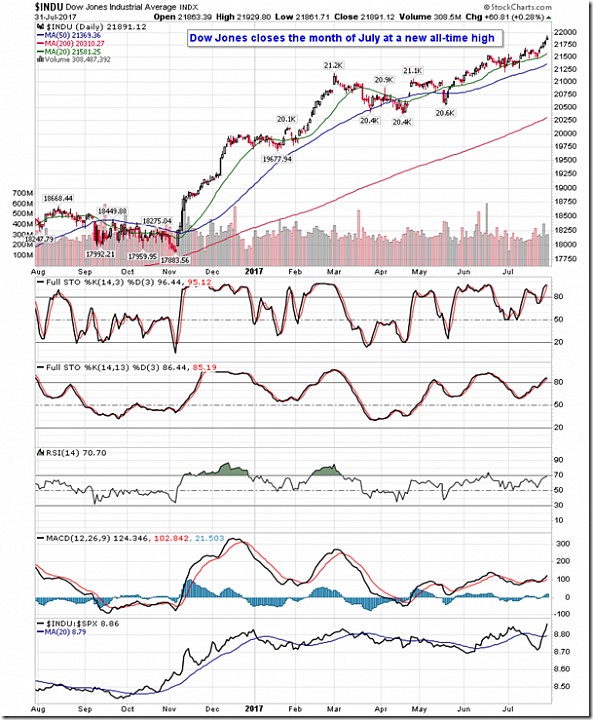 Looking at the month just past, the S&P 500 Index added 1.93%, the best monthly return since February.  The result easily surpasses the average change for July of 0.5%, a month that has seen more negative outcomes than positive ones in the past 50 years.  The large-cap benchmark remains firmly above its 20, 50, and 200-month moving averages, each of which continue to point higher.  Momentum indicators on the monthly look are solidly in overbought territory, but have yet to show signs of peaking.  The technology sector topped the leaderboard in July as the market segment concluded its period of seasonal strength on a strong note.  The S&P 500 Technology Sector Index added 4.27%, reversing the losses from the previous month to close at a new all-time high, finally surpassing the highs recorded in March of 2000 at the height of the tech bubble.  Over the past 20 years, technology has been the best performer in July, adding 1.8% on average.  Monthly momentum indicators for the sector benchmark are firmly overbought and are showing signs of rolling over as investors start to digest the strength over the past many months, which saw prices lift well off of long-term trendline support around 800.  Downside risks outweigh upside rewards as we enter into this softer period for the technology sector; the next period of seasonal strength starts in October.  The energy and utilities sectors captured the silver and bronze positions in July, each adding around 2.4%.  Seasonally, these two sectors have been the worst performers in the month, declining by an average of half of one percent over the period.  Both of these sectors benefit from a period of seasonal strength between now and the end of summer as demand for electricity and gasoline amidst the warmer weather drives the stock prices of the producers higher.  Overall, sector performance in the month of July was evenly mixed with cyclical and defensive sectors amongst both the winners and the losers.  Other than select industries, the defensive shift that is common during the summer has yet to become apparent in any significant degree.  Rotation, particularly among the cyclical sectors, continues to be a dominant theme as investors shift allocations away from some of the winners of the past year and into some of the laggards, such as energy, which is attempting to move above a daily bottoming pattern.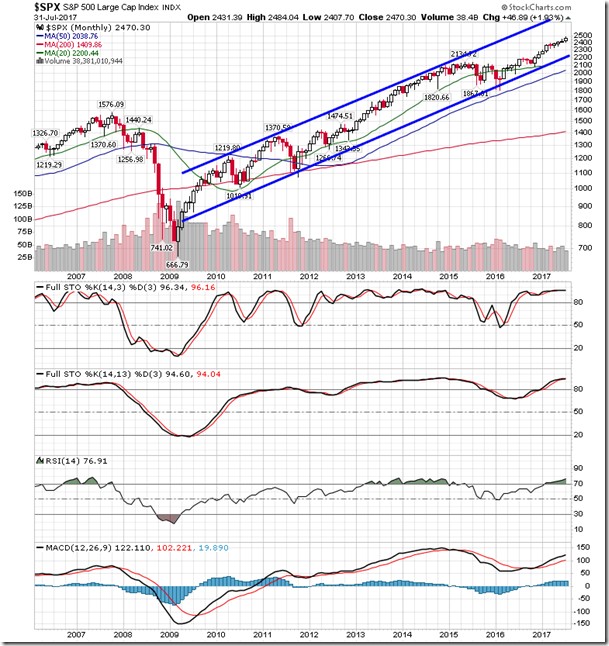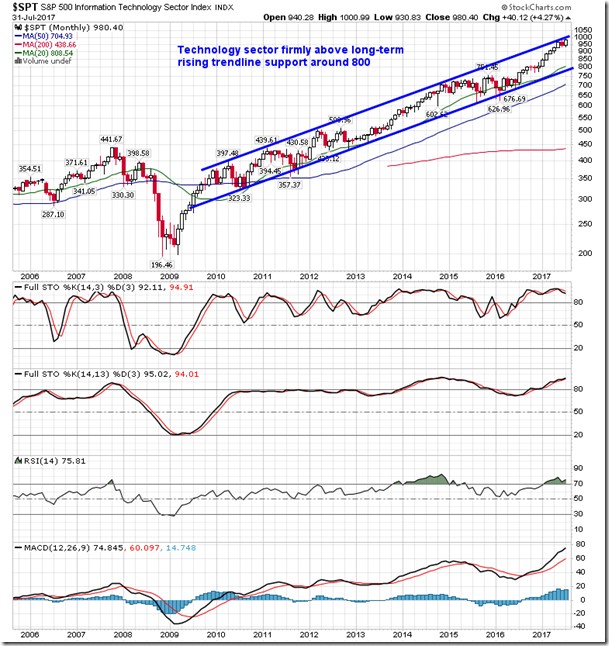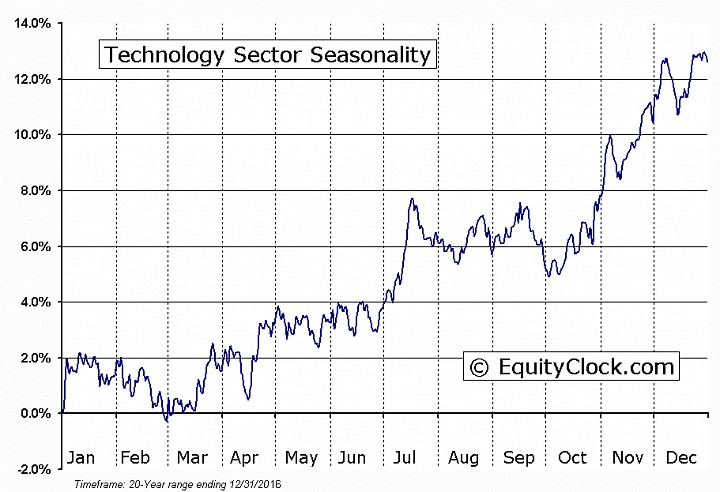 TECHNOLOGY Relative to the S&P 500

Looking ahead, despite August being a notoriously volatile month, the average result for the S&P 500 Index still manages to hold in the plus column, at least based on data from the past 50 years.  Average return for the large-cap benchmark in the month of August is 0.1% with 56% of periods showing a positive result.  Over the past 20 years, however, the result shifts firmly negative with the benchmark closing lower by 1.3%, representing the worst month of the year.  Returns have ranged from a loss of 14.6% recorded in August of 1998 to a gain of 11.6% in August of 1982.  Historically, there has been very few positive catalysts in this last full month of summer, fuelling volatility as traders step away from their desks for summer vacations.  This is also the post earnings period when analysts revise their expectations for quarterly reports for the weaker third quarter.
As for the sector performance for August, materials, consumer discretionary, and financials have shown the weakest result over the past 20 years, averaging a loss of at least 1.5%.  Losses in each of these sectors have been realized around 60% of the time, weighing on the broader market performance.  The only sector to show a positive result is utilities, which averaged a gain of 0.4%.  Positive results for this defensive sector have been recorded in 65% of Augusts over the past 20 years.  The performance emphasizes the defensive posture that investors adopt during this period of volatility as they seek to hedge cyclical exposure.  Outside of the equity market, gold has historically added value with gold futures averaging a gain of 1.9%, positive in 70% of Augusts over the past 20 years.  And if you're a currency trader, the Japanese Yen sees its best month of the year, gaining in 67% of Augusts for an average return of 1.3%.
UTILITIES Relative to the S&P 500

Notable names that enter a period of seasonal strength in this eighth month of the year include Adobe Systems (ADBE), Citrix Systems (CTXS), Verisign (VRSN), NetApp (NTAP), Bristol Myers Squibb (BMY), Intercontinental Exchange (ICE), Synopsys (SNPS), Raymond James Financial (RJF), Comcast (CMCSA), Archer Daniels Midland (ADM), Travelers (TRV), FedEx (FDX), Mylan (MYL), salesforce.com (CRM), Telefonica (TEF), Starbucks (SBUX), NVIDIA (NVDA), and Air Canada (AC).  Stocks concluding their seasonal run include Cummins (CMI), Avalon Bay (AVB), Baxter (BAX), Cisco Systems (CSCO), Intel (INTC), PepsiCo (PEP), Eli Lilly (LLY), Canadian REIT (REF/UN), Inter Pipeline (IPL), Veresen (VSN), Lockheed Martin (LMT).  Healthy rotation within the technology sector is apparent, as well as the conclusion of some of the yield plays, which have often been ideal holdings in the summer months.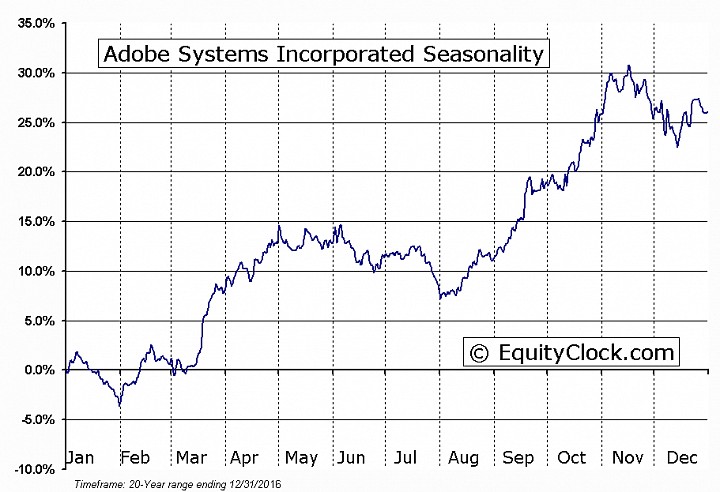 Seasonal analysis of Adobe Systems Incorporated (NASDAQ:ADBE) shows that a Buy Date of August 3 and a Sell Date of December 8 has resulted in a geometric average return of 10.59% above the benchmark rate.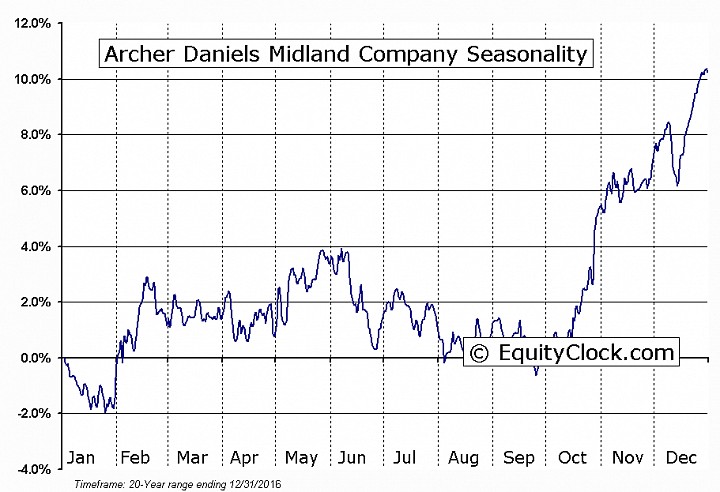 Seasonal analysis of Archer Daniels Midland Company (NYSE:ADM) shows that a Buy Date of August 27 and a Sell Date of November 20 has resulted in a geometric average return of 4.22% above the benchmark rate.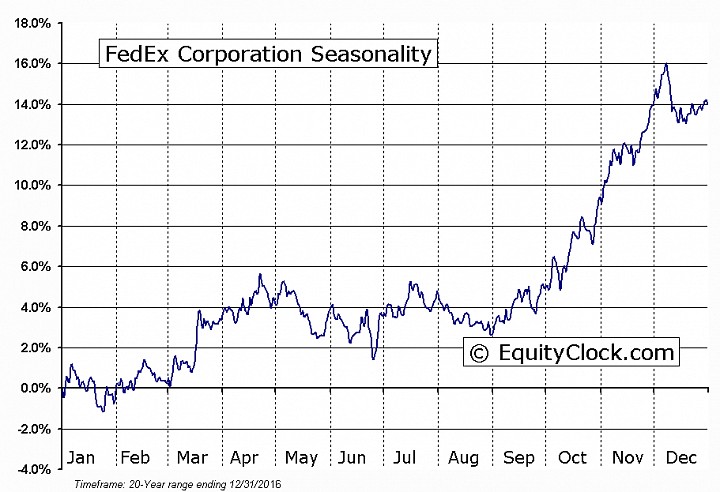 Seasonal analysis of FedEx Corporation (NYSE:FDX) shows that a Buy Date of August 27 and a Sell Date of November 29 has resulted in a geometric average return of 7.63% above the benchmark rate.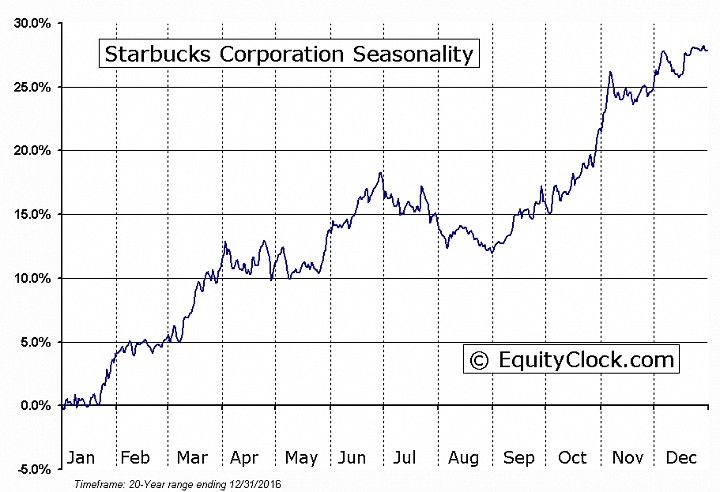 Seasonal analysis of Starbucks Corporation (NASDAQ:SBUX) shows that a Buy Date of August 6 and a Sell Date of December 8 has resulted in a geometric average return of 7.59% above the benchmark rate.
Sentiment on Monday, as gauged by the put-call ratio, ended bullish at 0.92.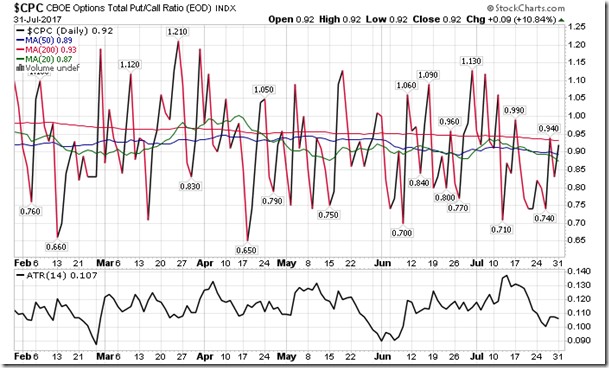 Seasonal charts of companies reporting earnings today:
 
S&P 500 Index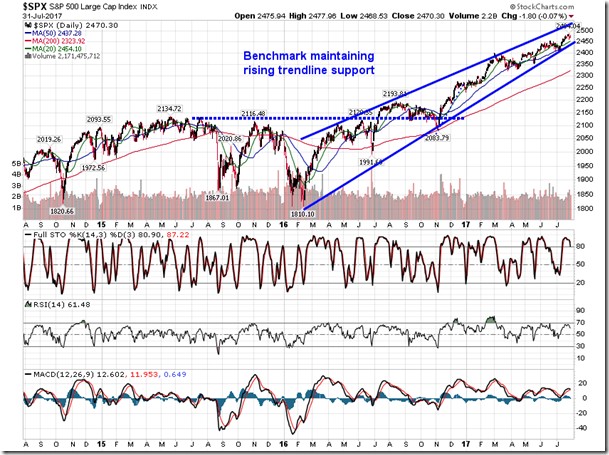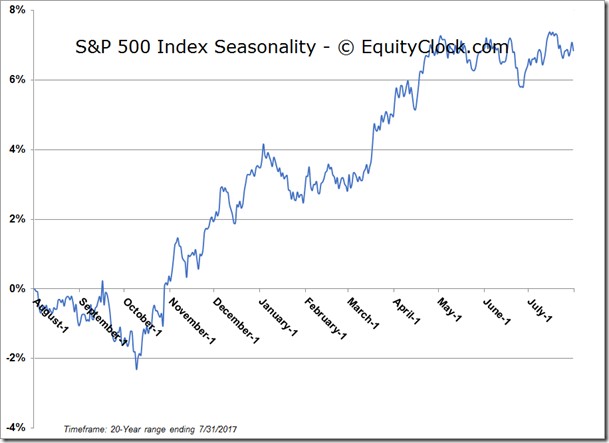 TSE Composite