Goldman Sachs Hui Shan has taken up a point that his team leader, Jan Hatzius, has previously stated is a reason not to pull interest rates higher from the mystical zero level: workers. As previously reported in ValueWalk, Hatzius has accurately noted that hourly wages remain low and thus nudging interest ever so slightly off the odd zero level means that the Fed should wait until December, not September, to pull the trigger on raising rates from the historical oddity of zero.
Never before has this observer witnessed Goldman Sachs so supportive of the middle class, much less the quintessential category icon: the hard hat construction type. The firm did just enter the mainstream into retail banking market, their most adventuresome leap away from the financial elite that has been their bread and butter. In the investment bank's most recent research piece, Shan's research shows that construction workers may not have enjoyed the same benefits during the quantitative easing era as others.
Their wages were generally lackluster, particularly those who left the industry and took a wage cut, but what stands out most dramatically is how construction hiring has demonstratively shrunk. But in the end Shan puts lipstick on the pig and notes that most of those in construction who left the industry found work elsewhere, some with jobs that offer better benefits while others discovered employment opportunity in "waste services," retail and "entertainment" industries.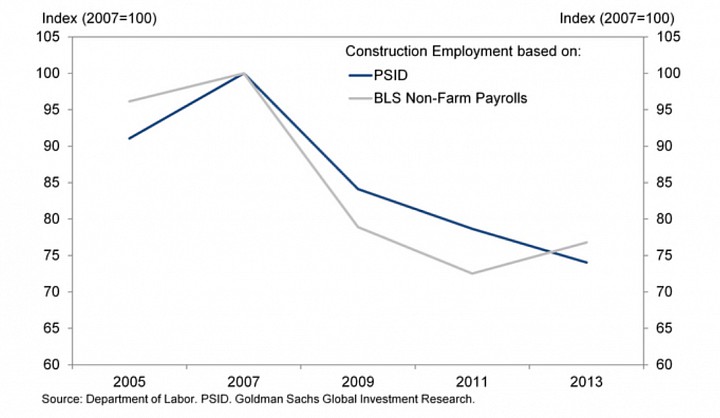 Construction workers hardest hit by the "Great Recession," employment down 25 percent
In a research note out Thursday, Shan points to study of construction workers from 2007 and notes they are earning the same amount of money and employment levels for the lunch-pail...
More