Wednesday began with decisively downbeat rumblings out of Germany as lawmakers from Angela Merkel's Christian Democratic bloc as well as MPs from the Social Democrats (Merkel's junior coalition partner) continued to signal they are inclined to agree with FinMin Wolfgang Schaeuble when it comes to how far Germany should be willing to go to keep Greece in the currency bloc.
German pessimism abruptly turned to optimism midday, when reports suggested Germany could back a kind of a la carte, cash for one-off reforms program that would, as suggested by Athens earlier this week, tap funds from EU bailout vehicles. Berlin talked that rumor back a few hours later, and the day ended with a meeting between Tsipras, French President Francois Hollande, and Merkel at which Greece agreed to step up the "severity" of the talks. 
So far, Thursday has brought more bad news from the Greek economy (which is back in a recession and which, as noted yesterday, is hemorrhaging jobs and businesses) with the unemployment rate jumping to 26.6% in Q1. Nearly three-quarters of unemployed Greeks have been jobless for 12 months or more. 
The economic squeeze may be taking its toll on the country's collective willingness to support the ongoing rift with creditors. A new poll shows that 50.2% of Greeks think Athens should accept the troika's proposal "if they insist on it", compared to only 37% who now favor a "rupture." Here's more from Bloomberg:
No. of people who are satisfied with govt's handling of talks with creditors fell to 45.4% from 50.5% in similar poll on April 29; those dissatisfied rose to 53.4%% from 48.2%.

 

Governing Syriza party gets 34.2% of voting intentions if elections were held now vs 19.6% for main opposition New Democracy party.

 

77.4% say they want Greece to stay in the euro, compared with 16% favoring a return to the drachma.
Clearly, the more public support there is for making concessions in exchange for a deal, the better Tsipras' bargaining position when it comes to negotiating with Syriza hardliners and passing a troika-written draft through parliament. Here's more on what accepting the troika's demands would entail (via The Guardian):
Speaking to state-run TV's newly relaunched channel, ERT, economy minister Giorgos Stathakis gave a glimpse of what Athens' new agreement with creditors will entail for Greeks. The deal, he said, would give the green light to privatisations (once a red rag for the leftists) and emergency levies on mid-income salaries.

 

Publicly-owned assets put up for sale would range from the port of Piraeus to the railway network, TrainOSE and regional airports nationwide. An almost watertight blackout by negotiators on the workings of what in effect is expected to be a new financial lifeline for Greece, has spawned widespread speculation but little in the way of specifics.

 

The measures will mean prime minister Alexis Tsipras rolling back on seminal pre-election pledges. The leader is counting on his unrivalled popularity ratings and widespread support for his Syriza party to carry him through.
Speaking of hardliners, members of the Communist-affiliated PAME union are staging demonstrations and protests today in Athens.The banner shown below depicts Tsipras alongside his two predecessors with the phrase "We have bled enough, we have paid enough."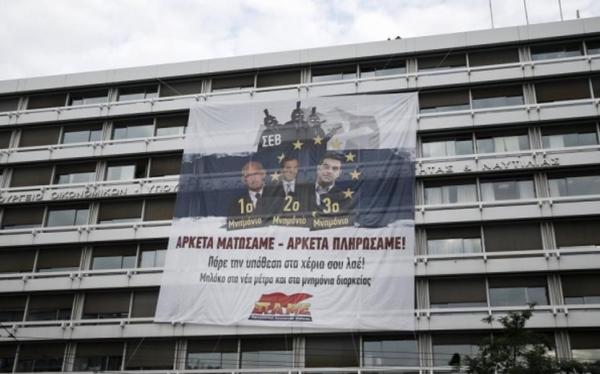 So while a slim majority of Greeks have now accepted the reality that remaining in the euro will likely mean accepting a deal that strips the government of its anti-austerity campaign mandate, the fact that Tsipras is even discussing pensions, VAT, and tougher fiscal targets with creditors is, for some, evidence that he is no different than the technocrats that came before him. 
In terms of looming payments, Greece of course owes the IMF €1.5 billion at the end of the month, but the focus seems to have shifted to a €3.5 billion bond held by the ECB and due on July 20.
Apparently the market assumes the IMF will exercise its discretion and make use of a 30-day grace period before officially declaring Greece in default should Athens miss the June 30 payment, while a default to the ECB could create an immediate (not to mention acute) liquidity crisis as the bank is effectively keeping the doors open at Greek banks by habitually raising the ELA ceiling and keeping haircuts on Greek collateral unchanged. Here's FT:
Officials are hoping to reach an agreement by next week's meeting of eurozone finance ministers to ensure the €7.2bn tranche can be disbursed before a €3.5bn Greek government bond comes due on July 20.

 

Eurozone officials believe it will take a month for Greece to legislate and implement the reform programme, and a default on the July 20 bond, held by the European Central Bank, could spark financial chaos in the country, officials believe.

 

Although Greece's current bailout ends at the end of the month, a deal reached by next week could include a programme extension so that bailout tranches could be paid into July.

 

As the leaders were meeting, Standard & Poor's downgraded Greece's debt, saying that Athens' decision to delay a €300m loan repayment to the IMF last week was a sign that "the Greek government is prioritising pension and other domestic spending over its scheduled debt service obligations".

 

S&P said that the current stand-off had undermined Greece's economy so severely that any agreement with bailout creditors was likely to include assumptions that would be too optimistic.

 

"Even if an agreement with official creditors were to be reached over the next fortnight, we do not expect that such an agreement would cover Greece's debt service requirements beyond September," S&P wrote (ZH: see here for more on what the future looks like in terms of Greece's debt burden)

 

The Greek government has attempted to win further concessions this week by submitting a new counterproposal to Pierre Moscovici, the European Commission's economic chief. But a commission spokesman said on Wednesday that Mr Moscovici had told Greek ministers that their effort was insufficient.

 

According to EU officials, Jean-Claude Juncker, the commission president who presented the compromise plan to Mr Tsipras last week, believed he had an agreement on budget surplus targets. He was awaiting a Greek plan on how to reach those targets which would have taken into account Athens' resistance to cutting pensions and raising taxes on energy.

 

Instead, Greek negotiators submitted new budget targets but did not include any new plans on how to make up shortfalls in the pension system or find new ways to make up for revenues lost without an energy tax increase. A Greek government spokesman hinted that Athens was prepared to accept the creditors' surplus for 2015, but did not comment on how savings would be achieved
For his part, FinMin Yanis Varoufakis has denied that Greece has agreed to a budget surplus target of 1% proposed by creditors, telling parliament that Athens can't and won't agree to such an aggressive goal. 
Finally, Tsipras is set to meet with Jean-Claude Juncker today.
The European Commission President reportedly refused Tsipras' phone call last weekend after the PM's impassioned speech to parliament sent the wrong message to creditors who, earlier in the week, handed Tsipras a draft proposal that apparently would have closed the deal had Athens accepted. It's not clear what the expectations are for today's meeting but for anyone who is adept at deciphering Junckerisms, we'll leave you with the following
https://twitter.com/dannyctkemp/status/608919237671944192
:
"When a cow is on the ice you have to push it off."