CBS Corporation CBS just released its second quarter fiscal 2017 earnings results, posting earnings of $1.04 per share and revenue of $3.26 billion. Currently, CBS has a Zacks Rank #3 (Hold), and it is down 0.11% to $64.45 in after-hours trading shortly after its earnings report was released.
CBS:
Beat earnings estimates.The company posted adjusted earnings of $1.04 cents per share, after excluding $0.90 for non-recurring items, beating our Zacks Consensus Estimate of $0.97. CBS earnings grew 12% year-over-year.
Beat revenue estimates.The company saw revenue figures of $3.26 billion, beating our estimate of $3.11 billion. Revenue increased year-over-year by 9%.
CBS affiliate and subscription fee revenues were up 16%, driven by a 25% increase in retransmission revenues and fees from CBS Television Network affiliated stations, as well as subscriber growth for its streaming services.
CBS' streaming services, CBS All Access and Showtime OTT, are on track to surpass four million subscribers by the end of 2017. The return of Twin Peaks boosted OTT subscriptions.
Advertising revenues were up 4%, led by the broadcast of the semifinals and finals of the NCAA Division I Men's Basketball Championship.
CBS also announced today an agreement with AT&T T that would allow AT&T's DIRECTV NOW live TV streaming service to carry CBS, as well as Showtime, the CW, Pop and CBS Sports Network. Financial terms of the agreement were not disclosed.
"CBS delivered outstanding second quarter results while continuing to take a number of steps to achieve our long-term financial goals," said CEO Leslie Moonves. "We are now gearing up to take the next strategic step with All Access by expanding it into the international marketplace, starting with Canada in the first half of 2018. So, 2017 is turning out to be a great year for the CBS Corporation even without the Super Bowl and political spending that we had in the prior year."
Here's a graph that looks at CBS' price, consensus, and EPS surprise:
CBS Corporation Price, Consensus and EPS Surprise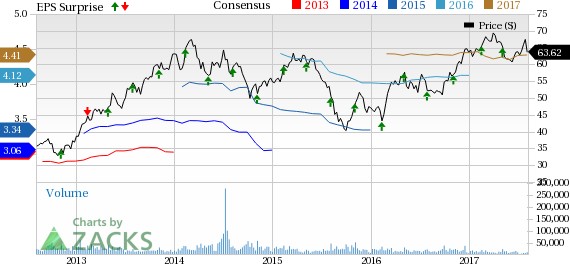 CBS Corporation Price, Consensus and EPS Surprise | CBS Corporation Quote
CBS Corporation is a mass media company that creates and distributes industry-leading content to audiences worldwide. CBS has businesses with origins that date back to the beginnings of broadcast as well as new ventures that operate on media's leading edge. It owns the most-watched television network in the U.S. and one of the world's largest entertainment libraries. CBS's operations span nearly every field of media and entertainment, including cable, publishing, radio, TV, film, outdoor advertising, and interactive and socially responsible media.
5 Trades Could Profit "Big-League" from Trump Policies
If the stocks above spark your interest, wait until you look into companies primed to make substantial gains from Washington's changing course.
Today Zacks reveals 5 tickers that could benefit from new trends like streamlined drug approvals, tariffs, lower taxes, higher interest rates, and spending surges in defense and infrastructure. See these buy recommendations now >>
Want the latest recommendations from Zacks Investment Research? Today, you can download 7 Best Stocks for the Next 30 Days.
Click to get this free report
CBS Corporation (CBS): Free Stock Analysis Report
AT&T Inc. (T): Free Stock Analysis Report
To read this article on Zacks.com click here.
Zacks Investment Research