Back in April, as the market surged off of the February lows, I discussed that the "Bear Market Was Over…For Now." To wit:
"Over the last couple of weeks, in both the daily blog and weekly newsletter, I have been laying out the technical case for a breakout above the downtrend. Such a breakout would demand a subsequent increase in equity risk in portfolios.

The breakout above the downtrend resistance suggests a moderate increase in equity exposure is warranted.The breakout also suggests that markets will now try to advance back to old highs from last year."
As noted, the breakout back in April has indeed allowed the market to advance back to, and break above, the previous highs from last year as shown in the chart below.
(Click on image to enlarge)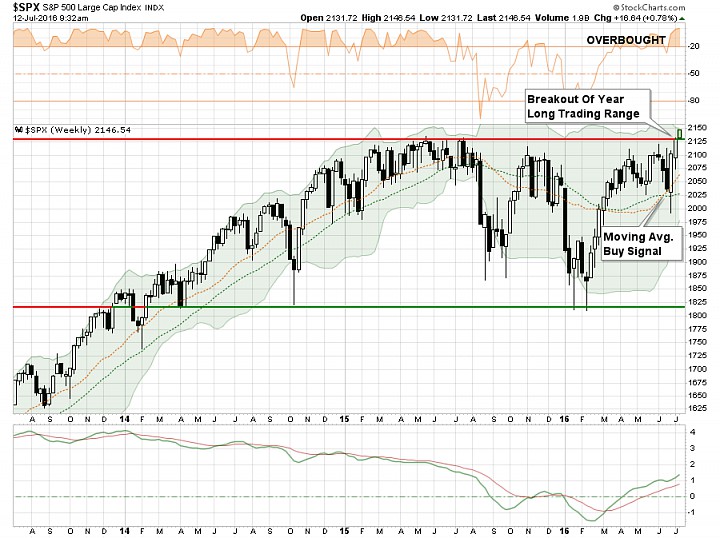 However, while the breakout has occurred, it is also critical that the breakout holds through the end of this week as I stated in this past weekend's newsletter. (Free E-Delivery Subscription)
"The push on Friday was enough to trigger a short-term buy signal and set the market up for a push to all-time highs. However, don't get too excited just yet. There are several things that need to happen before you going jumping head first into the pool.

We have seen repeated breakout attempts on Friday's previously which have failed to hold into the next week.Therefore, IF this breakout is going to succeed, allowing us to potentially increase equity allocation risk, it must hold through next Friday.
The overbought condition on a weekly basis needs to be resolved somewhat to allow enough buying power to push stocks above 2135 with some voracity. A failure at that resistance level could lead to a bigger retracement back into previous trading range of 2040-2100.
Interest rates, as shown below, need to start "buying the rally" showing a shift from "safety" back into "risk" as seen following the April deviation. (Gold bars show declining rates correlated with falling asset prices. Green bars are rising rates correlated rising assets.)
Volume needs to start expanding, second chart below, to confirm "conviction" to a continuation of the "bull market."
Disclosure: The information contained in this article should not be construed as financial or investment advice on any subject matter. Streettalk Advisors, LLC expressly disclaims all liability in respect to actions taken based on any or all of the information on this article.
How did you like this article? Let us know so we can better customize your reading experience. Users' ratings are only visible to themselves.
The next chart looks at each of these points to examine if there are the beginnings of a more "bullish" change to market dynamics. While the breakout has yet to be confirmed through...
More