With August being one of the quietest months for trading, it's good to take a step back and look at long term trends for the market as a whole.  Below are three charts that show how high the market has climbed.  But it is inevitable for the markets to start testing technical support levels and for institutions to take profits.  
With that being said, investors seem to be obsessed with central bank policy.  In the S&P 500 chart below, it depicts how quantitative easing has caused accelerated growth in stocks.  Last year, corporate profits rose 7% and stocks rose 30%.  The chart of the S&P 500 index over the last ten years has two trend lines, the long-term one that dates from the market bottom in March of 2009 and the breakaway trend that dates from the beginning of QE3.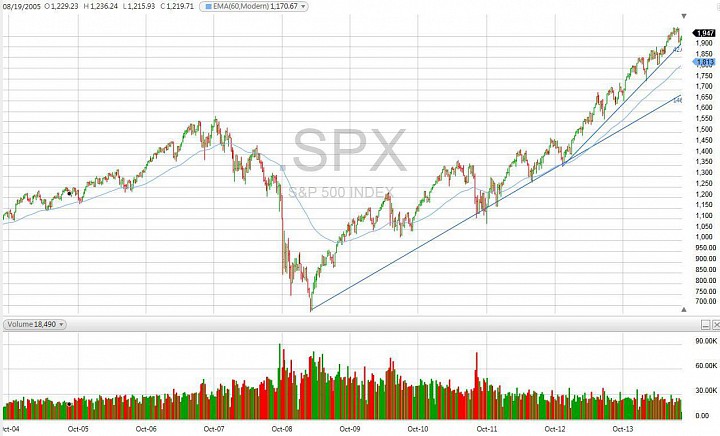 The S&P 400 (mid-cap stocks) rally has slowed and has broken below the long term support trend line.  The S&P 400 has gained over 240% since its financial crisis lows.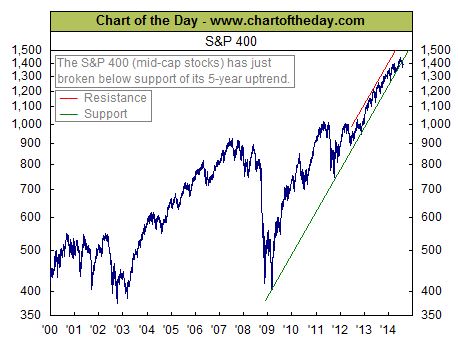 Since the financial crisis, the Russell 2000 (small-cap stocks) has been rallying sharply, with the exception of a "fiscal cliff" induced selloff in November 2012.  However, since March of this year, the Russell 2000 has moved to the downside and is now testing its five year support trend line.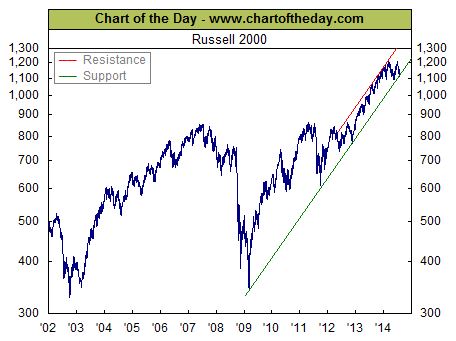 With so many charts and indicators pointing to an imminent correction, it's very important to point out that central bank policy seems to be a main culprit for much of the market trends.  Luckily, one advantage is any news from the Fed can be well-anticipated which could limit some negative impact.  Another risk is political.  The "fiscal cliff" had a short but major influence on the markets, so it's safe to assume that the November elections could have an influence as well.
In summary, whether looking at individual stocks or the market as a whole, the room for prices to decline in the near term appears to be greater than the room for them to appreciate.